The Texas Department of Public Safety Fitness Wellness Unit focuses on positively changing lives, improving fitness levels, and preventing heart and obesity related diseases through training and education. In order to increase the reach of the unit and provide additional subject matter knowledge in the field on a day-to-day basis, the DPS Fitness Institute was developed.
The DPS Fitness Institute is an extensive six-week course that combines classroom lectures and various workouts. This academically rigorous course prepares individuals in becoming certified personal trainers as well as Physical Fitness Instructors and Testers for DPS as well as outside agencies. This course assists in preparing the students with information in the following topics: Program Development; Basic Anatomy and Physiology; Exercise Leadership and Instruction skills; Strength, Cardiovascular, and Flexibility training principles; Physical Fitness Assessment Protocols; Nutrition Science; and Resiliency Training.
For more information on signing up for the next course, please contact: physicalfitness@dps.texas.gov. 
DPS Fitness Institute Graduates are an integral factor in helping improve and maintain fitness and reduce disease potential within DPS and outside agencies who have attended. Graduates provide answers to health and fitness related questions from colleagues in the field on a regular basis. Furthermore, the graduates often help educate and train Commissioned and Non-Commissioned Personnel by providing physical fitness, nutrition, resilience training and sleep presentations as well as various workouts.
Assisting the Fitness Wellness Unit in meeting demands and needs within The Texas Department of Public Safety, DPS Fitness Institute Graduates are located throughout the state in each region, as shown on this map.
Congratulations to the 2018 Class.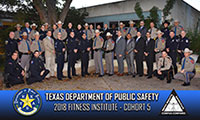 Congratulations to the 2019 Class.