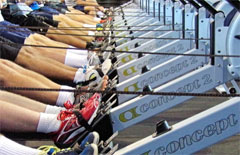 Concept 2 Rowers are an effective tool to assist you in achieving high levels of cardiorespiratory fitness.  Concept 2 Rowers actively engage both hemispheres of the body (upper and lower body) and do not place any impact on joints.  In order to row effectively, correct form must be utilized.  Please see The Rowing Stroke video for tips on how to increase cardiorespiratory fitness utilizing the Concept 2 Rower.
Common errors seen on the Concept 2 rower are highlighted in the Common Rowing Technique Errors video.
How to Train for the 2000 Meter Row Evaluation
It is important to train in a progressive manner.  The following handouts are designed to assist you with training to meet the standard:
Additional Rower Workouts can be found on the Concept 2 Website.
Concept 2 Rower Evaluation
The Concept2 Rower Evaluation consists of a 2000 meter row for time.   All commissioned and non-commissioned personnel taking this evaluation will need to do so in the presence of a certified tester.
Based on current DPS Policy, Commissioned Personnel must pass the fitness evaluation at 70% based on standardized age and gender norms.   The Calculator form or the VO2 Calculator can assist you in determining your requirements and to establish your fitness goals.
Please note that the damper setting is set to 5 for the evaluation.