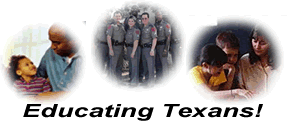 Welcome to the Texas Highway Patrol Education and Awareness page. Our goal is to educate our citizens and visitors on crime prevention and to gain voluntary compliance with traffic laws. By educating the public, we hope to reduce crime and to reduce the number of injury causing crashes on Texas Highways.
Please use the information on our website as a resource for class discussions, safety meetings, or general discussion. You may also contact a Trooper for safety presentations for your school, organized group, or business.
OVERVIEW
The Texas Legislature created the Safety Education Service (SES) in 1957. The service was a part of the Traffic Law Enforcement Division of DPS. Troopers in this service were charged with the duties of educating the public concerning the States traffic laws, thereby stimulating voluntary compliance.
In September of 2003, the Safety Education Service became a component of the Texas Highway Patrol Service as a part of reorganization in the Traffic Law Enforcement Division. The name of the Division will change to the Texas Highway Patrol Division.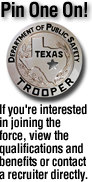 Highway Patrol Troopers, who were formerly Safety Education Troopers will continue to have the responsibility to educate the public and provide public information to the media. These Troopers are trained in media relations and public speaking and are able to present quality presentations for your organization or school.
Content for presentations provided to schools, civic clubs, citizens groups and police agencies are guided by seven specific categories: Occupant protection, Driving While Intoxicated (DWI), Bicycle Safety, Pedestrian Safety, Drug Awareness, Crime Prevention and overall Traffic Safety.
These troopers also assist the Media and Communications Office, serving as local Public Information Officers as needed. They also have the responsibility to coordinate regional recruiting efforts.
Programs commonly requested and/or presented:
Crime Prevention

Gang Awareness Terrorism Awareness Internet Safety Personal Safety
Stranger Danger Firearm Safety Police Training Holiday Safety
GREAT (Gang Resistance Education and Training) Community Helper 9-1-1 Programs

Drug Awareness

Drug Recognition Drugs and Their Effects DARE

Traffic Safety

Road Rage/Aggressive Driving Winter Driving Cell Phones and Driving Crash Prevention
Defensive Driving Holiday Safety

Occupant Protection

Seat Belt programs Child Passenger Safety

Driving While Intoxicated

DWI Awareness Open Container Stop the Knock Shattered Dreams
Zero Tolerance (underage drinking)

Bicycle/Pedestrian

Bicycle "Roadeos" Child Pedestrian Senior Adult Pedestrian Bicycle Safety
Be A Super-Cyclist

Additional Programs:

DPS Operations, Media Relations and How To Become a State Trooper.
Kids, Let's Be Safe
Download the Be Safe, Be Smart Coloring Book (PDF). This activity book is provided by the Safety Education Service of the Texas Department of Public Safety as an educational aid for young children. The Safety Education Service Mission is to educate the citizens of Texas in matters of public safety, crime prevention and detection, and law observance
Contact Us
Please feel free to contact one of our Highway Patrol Troopers for a safety presentation for your school or organization, for local public information, or for safety information and assistance.