Overview
The Texas Highway Patrol Service is responsible for general police traffic supervision, traffic, and criminal law enforcement on the rural highways of Texas. The Division's goal is to help maintain public safety through the efficient and effective administration of the division's various programs.
The menu on the right will provide you with useful information, travel advice, motorists information, education and awareness programs, and guide you to other Highway patrol websites including the Fallen Officer Memorial which is dedicated to the DPS officers who lost their life in the line of duty. If you are looking for a career in law enforcement, DPS may have what you've been looking for, Find a DPS Recruiter near you or go directly to the Recruitment page.
With the increase in vehicular traffic in Texas, the Texas Highway Motor Patrol was transferred to the Department of Public Safety and called the Texas Highway Patrol. The Texas Highway Patrol Service is responsible for police traffic supervision, general police work on highways, and public safety education.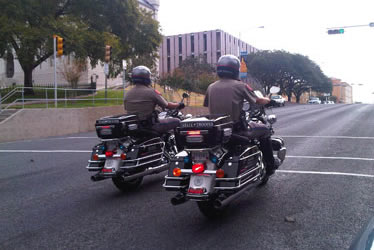 In addition to the above responsibilities, THP troopers conduct fraudulent document investigations, are partnered with drug and explosive detection canines, are members of Civil Disturbance Management Teams, comprise the majority of the DPS Tactical Marine Unit, and provide forensic mapping of crime scenes.
Mission:
The mission of the Highway Patrol Service is:
To secure and maintain order in traffic on highways of assigned responsibility within existing regulations to make the use of those highways safe and expeditious;
To educate the citizens of Texas in matters of public safety, crime prevention and detection and law observance
Personnel:
The Highway Patrol Service consists of 2802 commissioned officers.
Texas Highway Patrol Division
PO Box 4087 MSC 0500
Austin, TX 78773-0500