Texas Transportation Code §521.142 allows the Texas Department of Public Safety to include a notice on a driver license or identification card of those who indicate they have a health condition that may impede their ability to communicate with a peace officer.
The health condition must be supported by a written statement (Physician's Statement form DL-101) from a licensed physician and presented at the driver license office during the scheduled appointment before the communication impediment indicator may be included on the driver license or identification card. Below are examples of the prior and current location of this indicator on the card.
To apply for a replacement driver license, commercial driver license, or ID card that includes the communication impediment indicator, you must:
Complete the

application

before arriving. (This form is also available at all driver license offices)

Make an

appointment

before visiting your local driver license office

During the appointment, provide the following documentation to the license and permit specialist:

Application

replacement, and

Identity

(Only one primary, secondary, or supporting document is required)

If you have not previously provided the following documentation, you will also need to present:

U.S. Citizenship

or, if you are not a U.S. Citizen,

evidence of lawful presence

, and

Present a

written statement (

Physician's Statement form DL-101

) from a licensed physician

Provide your thumbprint.

Have your picture taken.

Pay the application

fee

.
Prior Card: On the Back Side
Driver License is in the restrictions
Identification Card is in blank space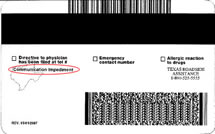 New Card: On the Front Side of DL and ID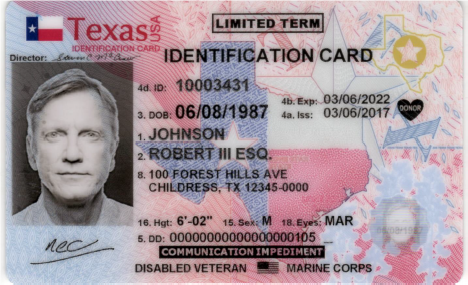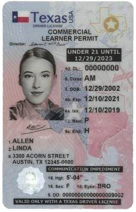 Note:
Medical information provided under this program is protected and is not subject to release under the Public Information Act.