Texas Transportation Code §521.125 allows the Texas Department of Public Safety to include a notice on the driver license or identification card  of those who indicate they have a health condition that may impede their ability to communicate with a peace officer.
The health condition must be supported by a written statement (Physician's Statement form DL-101) from a licensed physician and presented at the driver license office before the communication impediment notice may be included on the back of the driver license or identification card.
Back of Driver License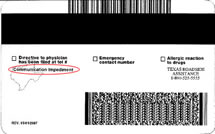 Back of Identification Card
Note:
Medical information provided under this program is protected and is not subject to release under the Public Information Act.