September 11, 2020
RECALL INFORMATION ADDED TO VEHICLE INSPECTION REPORT EFFECTIVE 9/11/2020
The non-emission Vehicle Inspection Report (VIR), which is provided by the inspection station at the conclusion of the vehicle inspection, has been updated to provide general recall information. This information is provided in order to improve motorist awareness of urgent safety recalls with the goal of increasing recall completion rates.
The VIR will include the following information at the top of the report:
"Recall information details can be found by visiting the National Highway Traffic Safety Administration's website at www.nhtsa.gov or calling the Vehicle Safety Hotline at 1-888-327-4236."
A bulletin was sent by DPS to all safety inspection stations on September 9, 2020, notifying them of the change.
Below is the revised portion of the VIR with the new recall information.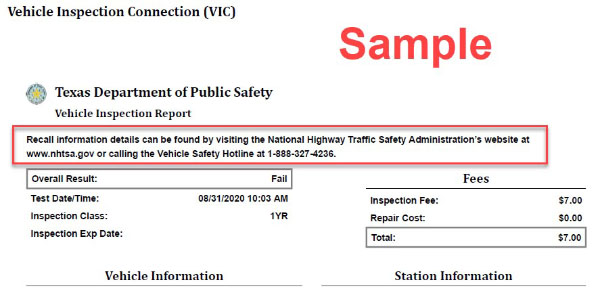 June 1, 2020
INSPECTOR LICENSE RENEWAL UPDATE
ATTENTION STATION INSPECTORS AND STATION OWNERS:
All inspectors, including government inspectors, must complete the renewal process by August 31, 2020. If you have not already completed your inspector renewal, please follow the steps below to submit your application:
Login to the VIC Inspector License Renewal Application.
Update your email address, phone number and address as needed.
Choose your payment method – Self Pay or Employer Pay.
Complete by paying the $27 renewal fee with credit card, debit card or by completing the employer payment submission.
If you choose Employer Pay, you must notify your employer to complete the payment in the system before August 31, 2020 or the renewal process will not be complete.
NOTE: Inspectors at Government Inspection Stations must also complete the renewal process and choose Employer Pay.
Be sure to renew your license BEFORE the expiration date.  Failure to do so will cause you to lose access to the VIC and/or emissions analyzer systems and you will no longer be able to conduct inspections without getting recertified.
If you have forgotten your password, please contact the help desk at 1-855-845-0842.  For all other assistance, contact your DPS representative.
Thank you for your attention to the renewal deadline.
May 12, 2020
RESUMING VI TESTING FOR INSPECTORS
ATTENTION ALL STATION OWNERS AND INSPECTORS:
Vehicle Inspection testing for inspector applicants will be resuming in the next few weeks throughout the state. For those applicants that have already submitted an application, you will be contacted by a Department of Public Safety representative to inform you of the available test dates and times. We will be contacting applicants in order based on application date, so please be patient.
Please be aware that due to the COVID-19 pandemic, the Department has put in place safety measures to protect applicants and Department representatives including:
All applicants are required to wear a mask or face covering the entire time they are at the testing location.
All applicants will be screened prior to entry to the DPS testing location including the taking of the applicant's temperature using a touchless thermometer.
All applicants will be asked if they have any symptoms that may indicate illness.
All applicants must bring their own pen or pencil for the test.
Class size will be determined by social distancing guidelines.
In order to offer more testing opportunities due to reduced class size, the Department has made a change in the testing process to eliminate the review of study material during class.
Applicants are strongly encouraged to review the material prior to taking the test.
All study materials can be found on the VI section of the DPS website 24 hours a day at the following link: https://www.dps.texas.gov/section/vehicle-inspection/inspectors.
Thank you for your continued participation in the Texas Vehicle Inspection Program. Please contact your Department representative for any questions.
April 17, 2020
TO ALL STATION OWNERS AND INSPECTORS:
Due to the COVID-19 virus situation, effective immediately the Department of Public Safety has canceled all inspector testing for new inspector applicants until at least May 18th.
All pending inspector applications will continue to be pending until inspector testing is resumed. Any new inspector applications submitted after March 20, 2020 will be delayed due to the canceling of inspector testing.
Thank you for your continued participation in the Texas Vehicle Inspection Program. Please contact your Department representative for any questions.
March 19, 2020
On March 13, 2020, Governor Greg Abbott issued a proclamation, declaring a state of disaster for all counties in Texas due to the threat of COVID-19. Governor Abbott also issued a statement on March 16, 2020, granting a temporary extension to obtain initial registrations and the renewal of registrations. Per TxDMV, this temporary waiver will remain in effect until 60 days after TxDMV notifies the public that normal vehicle registration, vehicle titling and related services have resumed. The 60-day period will be the same for all counties. For this reason, even if your registration will be expiring in the near future, it is not necessary to have your vehicle inspected until after TxDMV notifies the public that normal registration and related services have resumed.
January 1, 2020
Effective January 1, 2020, Snap-on Equipment and Opus Inspection will no longer offer support or repairs for certain models of emissions analyzers.
The affected Snap-On model numbers are:  EEEA110, EEEA110A, EEEA110B, EEEA116A, and EEEA134A.
The affected Opus Inspection analyzer model number is: ESP10400-57.
Opus Inspection analyzer model number ESP10400-78 will not be supported as of July 1, 2020. This analyzer model will be locked out of TIMS on July 1, 2020, and you must replace this equipment for inspections occurring on or after July 1, 2020.
Note: Worldwide emission analyzers are not affected and will continue to be serviced by Worldwide and certified by TCEQ for the foreseeable future.
In an effort to minimize the burden on stations that own one of the analyzer models listed above, the Texas Department of Public Safety (DPS) and the TCEQ have agreed to implement a three-month transition period. This will provide stations time to acquire replacement analyzers. At the end of the three-month transition period, on May 1, 2020, the analyzer models listed above will be permanently locked out of the Texas Information Management System (TIMS). For more information on analyzer vendors and models, visit TCEQ Vehicle Emissions Inspection pages.
A letter was sent by DPS to stations that own and/or use one of the models listed above in early January notifying them of the action required by the station by May 1, 2020. If you have any questions regarding this letter or the required action please contact our DPS Staff at (512) 424-7293.
January 14, 2020
Beginning January 1, 2020, all model year 1995 and older vehicles registered in a designated emissions county become exempt from vehicle emissions inspection requirements due to the age of the vehicle. Vehicle emissions tailpipe tests, such as the Acceleration Simulation Mode (ASM) and Two-Speed Idle (TSI) tests, will no longer be required. These vehicles are still required to receive an annual safety inspection to meet the registration requirements.
All model year 1996 and newer vehicles requiring emissions inspections will continue to receive on-board diagnostics (OBD) inspections in addition to safety inspections.
Counties requiring emissions inspections: Brazoria, Collin, Dallas, Denton, El Paso, Ellis, Fort Bend, Galveston, Harris, Johnson, Kaufman, Montgomery, Parker, Rockwall, Tarrant, Travis, and Williamson.
Visit the inspection criteria page for more information