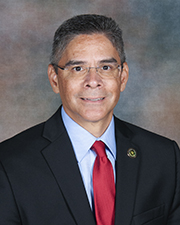 Phillip G. Ayala, Inspector General
Phillip Gonzalo Ayala began his career with DPS in 1996 as a Highway Patrol Trooper and has been stationed at the following duty stations: Austin-Capitol, Mathis and Northwest Austin. In April of 2003, Phillip promoted to Highway Patrol Sergeant in the South Austin duty station. He then promoted to lieutenant within the Administration Division at Austin Headquarters in September of 2005 where he remained until he promoted to captain in the Administration Division in January, 2009. In November, 2011 he transferred as a captain to the DPS Office of Inspector General. In September of 2015, Phillip promoted to major in the Texas Highway Patrol Division and was assigned to DPS HQ. In September 2018, Ayala was named regional director for the Central Texas Region until his appointment to Inspector General in the DPS Office of Inspector General, July 2019.
Phillip Ayala earned a Bachelor of Applied Arts and Science from Lamar University. He has continued with specialized law enforcement training throughout his career culminating with his graduation from the FBI National Academy - Session #271 in 2018.
Ayala has been married to his wife Veronica for 24 years and they have two daughters.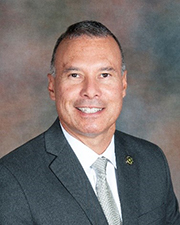 James Lopez, Deputy Inspector General
James Lopez began his career with DPS in 1992 as a Clerk in the Driver Improvement and Control Bureau located at Austin Headquarters. After serving in that capacity, he was selected to the first ever DPS Capitol Police Academy in 1993 and achieved the position of DPS Capitol Police Officer. After spending approximately 3 years at the State Capitol, James was again selected to attend the DPS All-Service Recruit School in 1997. After graduating from Class A-1997 Recruit School, James was stationed in the Brownsville and Austin areas as a Highway Patrol Trooper and would later promote to the rank of Highway Patrol Sergeant in 2004. As a Sergeant, James was stationed in the cities of Eagle Pass and Caldwell before returning home to serve the Austin area.
In 2010, James promoted to the rank of Office of Inspector General Lieutenant and was later promoted to the rank of OIG Captain in 2012. In 2018, James was appointed to the position of Deputy Inspector General where he is tasked to assist the Inspector General with oversite of the division's budget, inventory, training, and the OIG Volunteer Investigator Program.
James is a graduate of Northwestern University Center for Public Safety School of Police Staff and Command Class #356 in 2014, and attended the 40th Command Institute for Law Enforcement Executives conducted by the FBI Law Enforcement Executive Development Association in 2010. James holds Master Peace Officer certification and is a member of the National Internal Affairs Investigator's Association.
James has been married to his wife Lisa for 25 years and they have two children.