March 19, 2020
Due to measures related to the Coronavirus, it may be difficult to schedule a fingerprint appointment at some Identogo locations. Please visit www.identogo.com or call Identogo at 888-467-2080 for the latest information.
February 2020
Newly Redesigned LTC License Card Debuts February 24, 2020
The License To Carry Handgun (LTC) card has a new look and new features, including laser engraving and a durable, tamper-resistant polycarbonate material.
The card includes laser engraving of all personal data including the black and white primary and duplicate secondary photo. The license number, name and expiration date have a raised effect you can feel as you rub your finger across the card.
Previously issued LTC cards are still valid until the expiration date listed on the card. When you renew or apply for a new license, you will receive the newly redesigned card.
Below is an example of the new LTC: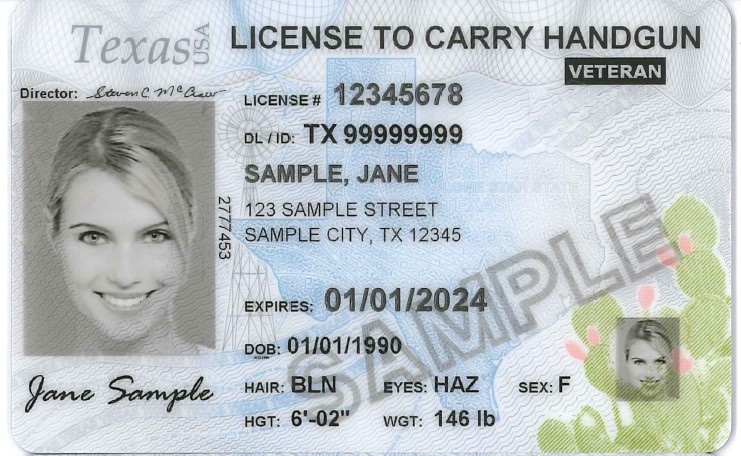 View more details on the newly redesigned card.
Previous News & Updates
October 2017
Statement Regarding Processing of LTC Applications
The Texas Department of Public Safety (DPS) is, by statute, provided up to 60 days to issue an original License to Carry a Handgun (LTC), and 45 days to issue a renewal license.  These time periods are calculated from the time a fully completed application and supporting documents are received.
In order to be complete, an original LTC application must include:
A completed application form
Electronic fingerprints
Certificate of Training
Any required supporting documentation
Renewal applications must include a completed application form along with any necessary supporting documents.
The Regulatory Services Division (RSD) Contact Center offers extended hours to better serve its customers.  Representatives are available to assist you from 7 a.m. to 7 p.m.  Please call (512) 424-7293 for assistance.
Faster and Easier – upload your documents for processing of your License To Carry. Click on Contact Us and follow the instructions to submit documents.
Documents may also be submitted by mail to:
Texas Department of Public Safety
Handgun Licensing Program, MSC 0245
PO Box 4087
Austin, Texas 78773-0245
September 2017
SB Bill 16 will go into effect on September 1, 2017.
As a result of Senate Bill 16, the fee for issuance of an original or renewal license to carry a handgun has been decreased.
This bill reduces the standard original license to carry an application fee from $140 to $40.
This bill sets the standard renewal license to carry application fee at $40.
This bill sets the Senior Citizen and the Indigent license to carry application fee at $40. In addition, this bill set the Senior Citizen and the Indigent renewal license to carry fee to $35.
This bill waives license to carry application fees for an Active Texas Peace Officer and Texas Military Forces. The application and renewal fees are reduced from $25 to $0.
January 2016
Training material related to the safe storage of handguns may be found on Safe Storage (PDF).
December 2015
As a result of House Bill 910, which becomes effective on January 1, 2016, the Department has begun issuing a modified design of the Concealed Handgun License (CHL) now referred to as a License To Carry Handgun (LTC). The new design contains all of the same security features as those utilized on existing CHLs. For examples of licenses currently in circulation, see: LTC sample. Should you wish to receive the new-designed license, you may request a replacement license by submitting the LTC-70, located in downloadable forms.
Information regarding training requirements is available in the Frequently Asked Questions (FAQs) found on the department's website at: FAQs
Training material related to the use of restraint holsters and methods to ensure the secure carrying of openly carried handguns may be found on Use of Restraint Holsters (PDF).
May 2014
DPS will begin issuing newly-designed Concealed Handgun Licenses (CHLs). The CHL will no longer display the weapon category, such as Semi-Automatic (SA) and Non-Semi-Automatic (NSA). This change was mandated by the 83rd Texas Legislature in House Bill 3142.
June 18, 2013
Passport-Style Photos
For security purposes and processing efficiency, DPS is now utilizing the Texas Driver License or ID Card photo on file for Concealed Handgun Licenses.  The LTC-6 (Photo Holder) is only required to be submitted by applicants who hold an out of state Driver License or Identification Card. A revised LTC-6 is now available in downloadable forms.
February 2011
Program Update
Texas Administrative Rules relating to Concealed Handgun Licensing (CHL) was amended and became effective on Jan. 9, 2011. Following is a brief summary of the rule changes:
Effective March 1, 2011, DPS will require applicants to submit electronic fingerprints with original applications.
DPS will attempt to utilize existing prints on file for renewal applications. However, if the prints on file do not meet current quality standards, new fingerprints must be submitted electronically.
Applicant photos will not be accepted if the applicant is wearing eye glasses.
See Administrative Code to view the affected rules.
LTC-16 (law books) are available for download and/or purchase. (See Downloadable Forms) OR (See General Services GS-5A Order Form to purchase)
October, 2010
Instructor Newsletter (PDF)
This newsletter covers: Applicants options, CHL lawbook, Fingerprinting, Instructor Opt-in information
October, 2010
Photo requirements/Signatures

TXDPS no longer requires signatures on the back of photos by either the applicant or the fingerprint technician. Photos will not be rejected for lack of signature.
July, 2010
Photo Requirements for Military Personnel; ages 18-20
Profile photos are no longer required. Military Personnel who are 18-20 years of age can now submit 2 photos of a clear frontal image.
April, 2010
Fingerprints & Photos Requirement Change for Renewal Applicants
As of May 1, 2010, CHL renewal applicants will no longer be required to submit fingerprints or photos as part of their renewal application. CHL can now resubmit good quality fingerprints and reuse previously submitted photos.
*Note: TXDPS reserves the right to request replacement passport photos or quality fingerprints for renewing applicants, in the event that the previously submitted photos or fingerprints on file do not meet current quality requirements and/or guidelines.