The objective of the Uniform Crime Reporting program is to produce reliable crime statistics for law enforcement administration, operation, and management. This information is also available as a measure of the fluctuations in the type and volume of crime in Texas through the collection of data on the ten serious Index Crime Offenses.
INDEX
History of UCR
National UCR Program
Overtime, modifications to the original NIBRS collection were necessary to ensure accurate capture of additional information to include:
1920's – After recognizing a need for national crime statistics, the IACP formed the Committee on Uniform Crime Records to develop a system of uniform crime statistics.
1929 - After studying state criminal codes and making an evaluation of the recordkeeping practices in use, the committee completed a plan for crime reporting that became the foundation of the national UCR Program.
1979 - By congressional mandate, arson was added as a Part I offense category for Summary Reporting System (SRS).
1989 - The FBI began accepting NIBRS data from an initial group of agencies across the nation.

Bias-motivated offenses (1990);
The presence of gang activity (1997);
Data for law enforcement officers killed and assaulted (2003);
Data on cargo theft (2005); 
New codes to further specify location types and property types     (2010);
Offender ethnicity (2013)
Animal cruelty (2016)
Identity theft and hacking/computer invasion (2016)
Cyberspace – added as a location type (2016)

2013 - Human trafficking/commercial sex acts and human trafficking/involuntary servitude were added as Part I offenses (SRS)
State of Texas UCR Program
January 1, 1976 - The State of Texas adopted the Uniform Crime Report as its official statewide crime report. The Department of Public Safety accepted the responsibility to collect, validate and tabulate UCR reports from all reporting jurisdictions in Texas.
1998 - The State of Texas became FBI certified as a state to contribute NIBRS data.
September 1, 2015 - House Bill 11 which required the Department to implement a goal for Texas law enforcement agencies to transition, as a whole, to NIBRS as the standard reporting methodology to the national UCR program by September 1, 2019.
December 2, 2015 – the Criminal Justice Information Services Division's Advisory Policy Board (APB) approved the recommendation to sunset the traditional Summary Reporting System and replaces it with the National Incident-Based Reporting System (NIBRS) by January 1, 2021.
December 2017 – The Department's UCR Program received their NIBRS recertification after transitioning to a new UCR system.
September 2018 – Texas has received commitment from approximately 550 agencies to transition by the Texas goal of September 1, 2019, and a total of approximately 900 agencies committed to transition by January 1, 2021.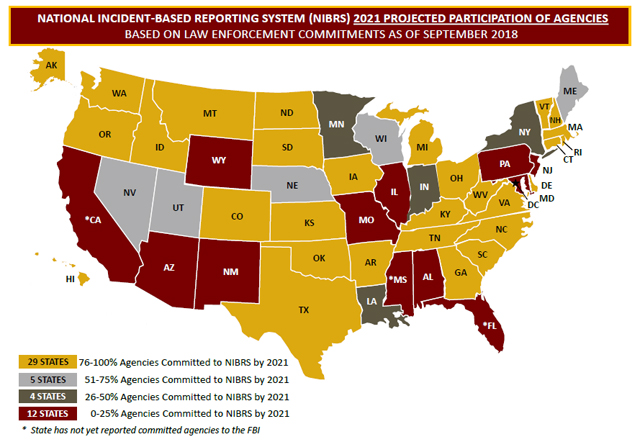 National Incident Based Reporting System (NIBRS)
The Texas version of NIBRS, includes all national data elements as well as Texas-specific data. The current total number and list of participating agencies can be viewed under Texas Incident-Based Reporting Agencies. At this time, there is not a separate publication for IBR data. IBR data is converted to summary for its inclusion in the Crime in Texas report.
The Uniform Crime Reporting Program (UCR) provides a nationwide view of crime based on the submission of crime information by law enforcement agencies throughout the country. This data is used in law enforcement administration, operation, and management, as well as to indicate the level and nature of crime in the United States.
IBR collects data on each single crime occurrence. NIBRS collects data on each single incident and arrest within 24 offense categories made up of 52 Group A offenses. The offenses that fall into this category are:
Animal Cruelty
Arson
Assault
Bribery
Burglary/Breaking and Entering
Counterfeiting/Forgery
Destruction/Damage/Vandalism of Property
Drug/Narcotic Offenses
Embezzlement
Extortion/Blackmail
Fraud
Gambling
Homicide
Human Trafficking
Kidnapping/Abduction
Larceny/Theft
Motor Vehicle Theft
Pornography/Obscene Material
Prostitution
Robbery
Sex Offenses
Sex Offenses, Non-forcible
Stolen Property
Weapon Law Violations
In addition, there are 7 Group B offense categories for which only arrest data are reported. Most Group B offenses only come to law enforcement attention when arrests are made.
Curfew/Loitering/Vagrancy Violations
Disorderly Conduct
Driving Under the Influence
Family Offenses, Nonviolent
Liquor Law Violations
Trespass of Real Property
All Other Offenses
NIBRS Transition Packet
The Department has put together a series of documents from various sources that will assist agencies in their transition to NIBRS. The NIBRS Transition Packet includes information regarding steps to certification, the effect NIBRS reporting has on an agency's crime statistics, media kits, etc. This information has been developed by the Department of Public Safety, the Federal Bureau of Investigation, Uniform Crime Reporting Section, law enforcement, and the Bureau of Justice Statistics, specifically the National Crime Statistics Exchange (NCS-X) Project.
NIBRS Helpful Videos:
For additional criminal justice information and on-line access to other resources, please review the National Clearinghouse for Criminal Justice Information Systems.
Questions regarding NIBRS transition can be directed to the DPS UCR NIBRS team at (512) 424-2091 or via email.
Law Enforcement Employee (LEE) Data Collection
This yearly "LEE survey" (i.e. data collection)  is submitted through the Texas UCR Repository. It allows local agencies the opportunity to submit their LEE numbers, which is used for statistics, grant funding, and state leadership decisions. The FBI sets the dates that the LEE survey is open for each reporting year. Typically, the collection window is open for a limited time, from the beginning of November through mid-January.
The LEE data allows the National UCR Program to:
Publish agencies' LEOKA data.

Provide analysis on law enforcement numbers compared to crime volumes nationwide.

Share this data with the National Use of Force (UoF) Program, which relies on this critical data for its collection.
Additional UCR Texas-Centric Collections
Family Violence
Violence within Texas families has been recognized as a growing threat to the safety of Texans. In an effort to quantify the incidents of abuse occurring within Texas families, the 71st Texas Legislature directed the Department of Public Safety to collect information on family violence incidents. This data collection commenced with calendar year 1991.
Hate Crime
Under mandate of state and federal law, in 1992, the Texas UCR program began collecting hate crime information. The Hate Crime Statistics Act of 1990 directed the U.S. Attorney General to collect data, "about crimes that manifest evidence of prejudice based on race, religion, sexual orientation, or ethnicity." Disability was added to the list of bias categories in 1997.
Shortly after the passage of the national law, the Texas Legislature amended the Texas Government Code to require the Department of Public Safety to, "Establish and maintain a central repository for the collection and analysis of information relating to crimes that are motivated by prejudice, hatred, or advocacy of violence." The passage of this law impacted every law enforcement agency in Texas through the requirement that, "Local law enforcement agencies shall report offenses described by Subsection (a) in the form and manner and at regular intervals as prescribed by rules adopted by the department."
Sexual Assault
In response to a growing concern about sexual assault incidents, the 80th Texas Legislative Session passed House Bill 76. The Bill requires that Texas DPS establish guidelines and collect, as part of the UCR Program, data about incidents that contain specific sexual assault offenses. Sexual Assault crime data collection began in the calendar year 2008. Special consideration had to be taken to disseminate the data collection guidelines for Sexual Assault reporting due to the nature of the difference between UCR offense definitions and Texas penal code definitions. In the Texas UCR program, rape is the only offense collected under the crime index. Since there is greater variance in the offenses collected in the compilation of Sexual Assault data, this data collection should in no way be compared to the statistics maintained in the National UCR program.
Drug Seizure
Drug seizure information is presented in compliance with Health & Safety Code, Sec. 481.185, and its requirement that "All law enforcement agencies in this state shall file monthly with the [DPS] Director a report of all arrests for drug offenses made and quantities of controlled substances seized by them during the preceding month." Drug Seizure crime data collection began in the calendar year 1992.
State of Texas UCR Important Links