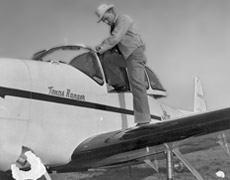 In the early part of 1949, it became apparent to the Department of Public Safety that a more efficient method of transporting investigative teams, specialized police equipment and key personnel throughout the state had to be developed. In October of that year, it was determined that the purchase of a single-engine Navion would greatly enhance the Department's ability to meet these transportation needs. By basing this airplane in Austin, Texas, it provided a central location from which could be strategically dispatched to the outlying regions. At this time, Max Westerman, Patrolman, License and Weight Service, was transferred to the Texas Ranger Service and placed on detached duty to the Director's Staff as the first DPS pilot.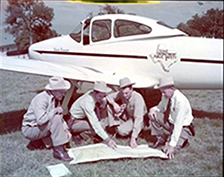 By January of 1953, the requests for aerial support had increased to a point that one pilot could no longer meet the demands. In order to meet these increased obligations, a second pilot, George Burnup, Patrolman, Highway Patrol Service, was added to the Austin pilot staff.
From January 1953 to September of 1967, the pilot staff remained unchanged. However, the aircraft fleet had been upgraded from one single-engine Navion to three twin-engine Cessna 310s. The three aircraft and two pilots remained stationed in Austin during this period.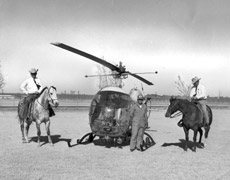 In September 1967, the Department realized that it was going to have to increase its aerial support capabilities in order to keep up with the ever-increasing sophistication and mobility of the criminal element. With this in mind, the Department initiated a program to expand the existing fleet of fixed-wing aircraft and to establish a helicopter operation. These programs were established as follows:
Fixed-wing Operation - One of the three Austin-based Cessna 310s was reassigned to Dallas and a Cessna 320 was purchased and stationed in Midland. A Lockheed Lodestar, which had been given to the Department, was stationed in Austin. Two Highway Patrolman were selected to fly the aircraft assigned to Dallas and Midland. A third Highway Patrolman was selected to function as co-pilot on the Lockheed Lodestar. In the early part of 1968, the Lockheed Lodestar proved to be too expensive to operate; therefore, it was sold. The co-pilot retired in August of 1968, and because of limited operating funds, this position was not filled. As of September 1968, the Department's fixed-wing operation consisted of four twin-engine airplanes and four pilots.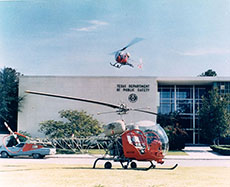 Helicopter Operation - The Department entered into a four month lease-purchase agreement with Bell Helicopter for two Bell 47G-5 helicopters. Three Highway Patrolmen were selected and trained as helicopter pilots. Upon completion of training, the pilots spent one month in each region demonstrating the helicopter's unique capabilities. During this trial period, the helicopters proved to be extremely effective while working manhunts, participating in search and rescue operations, and enforcing violations of traffic laws. The helicopter operation had proven so successful that the Department exercised its purchase option on the two helicopters and added one additional pilot. The helicopters were stationed in Austin and Dallas to cover the southern and northern parts of the state respectively. As of March 1968, the Department's helicopter operation consisted of two helicopters and four pilots.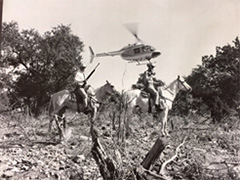 In February 1969, it was obvious that two helicopters could not effectively cover our state. Through the use of matching federal funds, the Department purchased five additional helicopters (three Bell Jet Rangers and two Bell 47G-4As.) The Jet Rangers were stationed in Austin, Dallas and Lubbock. The Bell 47G-4As were stationed in Corpus Christi and Houston. The original Bell 47G-5s were stationed in Midland and Waco. Three new pilots were selected and trained to fly the 47G series helicopters. Three additional pilots were trained as co-pilots and paramedics for the Jet Rangers.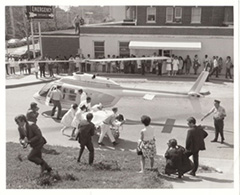 During this same period, one of the Austin-based Cessna 310s was reassigned to Corpus Christi and one additional twin-engine pilot was selected for this new station. This brought the Aircraft Section's staff up to ten helicopters and five twin-engine pilots. As a result of the increase in staff, aircraft and general responsibilities associated with the Aircraft Section, George Burnup was appointed as the Department's first Chief Pilot.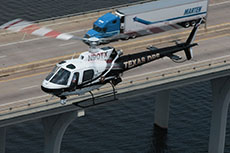 From September 1969 to August 1975, the existing aircraft were gradually upgraded to cabin class Cessna 400 series airplanes and Bell Jet Ranger helicopters.
In September 1975, one additional helicopter pilot was selected to be the second pilot on the Corpus Christi Bell Jet Ranger.
In September 1977, one additional twin-engine pilot was selected to be the second pilot on the Austin-based Cessna 402B.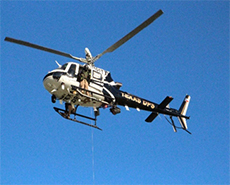 In May 1980, the Department purchased a single-engine Cessna 210 airplane to be used primarily for the surveillance and enforcement of the state's mushrooming narcotics problem. This aircraft was stationed in Austin and manned by two newly selected pilots. The ability to assign this aircraft to covert and overt surveillance for extended periods, enabled the Aircraft Section to keep the helicopters available for search and rescue missions.
In May 1982, as the Cessna 210 was utilized more and more by the Narcotics Service, the importance of aerial surveillance of the criminal activities became obvious. Because the increased utilization quickly exceeded the capabilities of one single-engine airplane, a military surplus Cessna T-41 was transferred from the Disaster Emergency Management Division to the Aircraft Section. This aircraft was stationed in Dallas to cover the northern half of the state. The Narcotic Service detached one Narcotics agent position to the Aircraft Section to fly the Cessna T-41.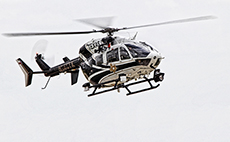 By November 1983, the T-41 could no longer safely meet the Aircraft Section's mission requirements. In order to replace this single-engine airplane, the Department traded a confiscated airplane for a used Cessna 210.
In May 1984, a confiscated Cessna 206 was put into operation in Austin as a backup while the other single-engines were down for maintenance. In February 1986, the Cessna 206 was reassigned to Lubbock to increase the criminal aerial support capabilities needed by the Narcotics Service in the western half of the state. A Dallas-based pilot was transferred to Lubbock to function primarily as the Cessna 206 pilot.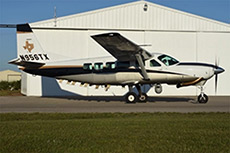 In September 1984, an additional used Cessna 210 was placed into operation in Corpus Christi. This aircraft was purchased by trading in a confiscated twin-engine airplane. The existing Corpus Christi pilot staff was utilized to man this aircraft.
Today, The DPS Aircraft Operations Division is composed of 50 police pilots, 25 tactical flight officers, 2 administrative assistants, 1 aviation financial manager, 1 aircraft communications specialist, and 1 aircraft avionics specialist. The Division currently runs a fleet of 14 Airbus AS350 helicopters, 3 of which are hoist equipped, 1 Airbus EC145 twin engine helicopter, 4 Cessna 206 single engine airplanes, 2 Cessna 208 Caravan single engine turboprop airplanes, 2 Pilatus PC12 single engine turboprop airplanes, and a King Air 350 airplane. All of the DPS pilots hold a minimum of commercial pilot licenses with instrument ratings, and receive recurrent pilot training from the Aircraft Division training staff and from the factory. DPS Pilots receive additional training and ratings, in both airplane and helicopter, throughout their careers that include Certified Flight Instructor (CFI), Certified Flight Instrument Instructor (CFII), Multi Engine, and Airline Transport Pilot (ATP).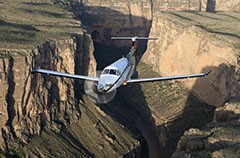 The additional helicopters were implemented to assist in Homeland Security and Border Security operations. These additional aircraft are a valuable assist to provide service to all areas and the people of Texas.