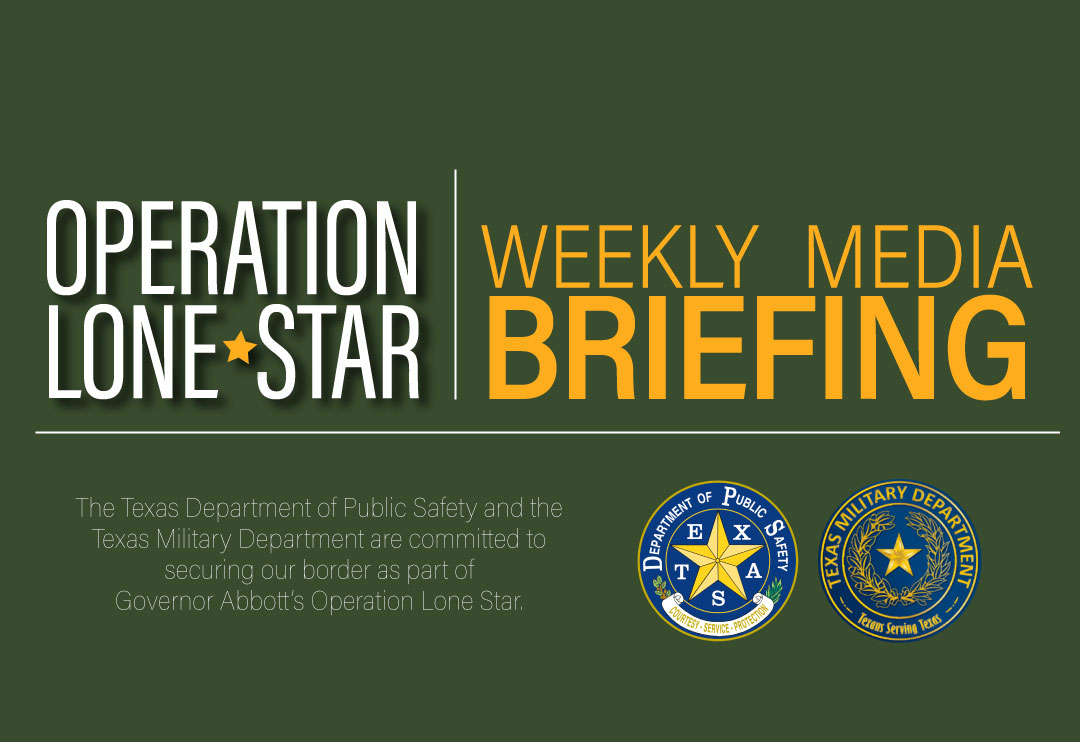 AUSTIN – The Texas Military Department (TMD) and the Texas Department of Public Safety (DPS) hosted a media briefing today to provide an update on Operation Lone Star (OLS). The briefing was held at DPS' regional headquarters in Weslaco.
DPS South Texas Regional Media Lt. Christopher Olivarez and TMD Maj. Michael Perry discussed progress made to advance the mission within the last week.
TMD is focused on apprehending transnational criminal organizations and repelling any potential large caravans. It recently identified low water crossing locations in Texas from Del Rio to Brownsville.
"The Texas National Guard, along with our Department of Public Safety partners, conducted rehearsal drills last week to block low water crossing areas along the Texas-Mexico border," said Brig. Gen. Monie Ulis, TMD Border Commander. "The Guard is ready to surge personnel, equipment and capabilities to block illegal border crossing to safeguard Texans' private property."
These drills, which were a part of Operation Steel Curtain, included moving equipment and personnel into and out of these areas in anticipation of potential caravans who may try to use these areas to cross.
DPS is also ready to prevent potential caravans and is protecting the property of the state.
"DPS has maintained a large presence along our southern border as part of OLS at the direction of Gov. Greg Abbott," said DPS Director Steven McCraw. "We continue to make numerous arrests and apprehend suspects to keep Texas secure. We remain committed to keeping the people of Texas and their property safe and enforcing the law."
Within the last week DPS arrested a 16-year-old male driving a stolen vehicle on Oct. 30 in LaSalle County. The vehicle pursuit began when the driver failed to stop for a traffic stop. The chase ended when the driver crashed into a motel. He was found by U.S. Border Patrol K-9, trying to hide inside motel rooms.
Troopers also located a stash house on Nov. 1 in Hidalgo County, when they responded to several drawbridge activations near a neighborhood and followed the evidence to a house. The owner allowed the home to be searched and found 15 migrants, who were referred to U.S. Border Patrol. Two juvenile American citizens were also in the house. The resident said she was babysitting the pair.
Other recent OLS activities of note include:
On Oct. 30 in Starr County, a Trooper conducted a vehicle stop, in which the occupants bailed out. The driver was apprehend and four migrants were referred to the U.S. Border Patrol. The driver stated he was paid $150 per person to smuggle them to an unknown location.

On Nov. 1 in Cameron County, a traffic stop of a vehicle resulted in the arrest of the driver for possession of a controlled substance and money laundering. A search of the vehicle revealed .12 ounces of cocaine, about 4.37 ounces of THC and $30,000 in cash.

Also on Nov. 1 in Starr County, a Trooper saved a life when he stopped a vehicle that was driving at a high rate of speed. The driver was in distress and holding an infant with a blue skin tone. The Trooper used lifesaving measure to dislodge the object from the baby's throat. Additional Troopers arrived to assist, and the infant was released to EMS for further medical evaluation.

On Nov. 2 in Hidalgo County, a traffic stop was conducted on a vehicle that had an obscured temporary tag, a red and blue police-style light bar in the front grill and a siren in the engine compartment. The Trooper also saw the back storage compartment of the vehicle was covered in grass and dirt. U.S. Border Patrol was contacted and it was determined the driver was a known scout and in the country illegally. He was taken into custody by the U.S. Border Patrol.