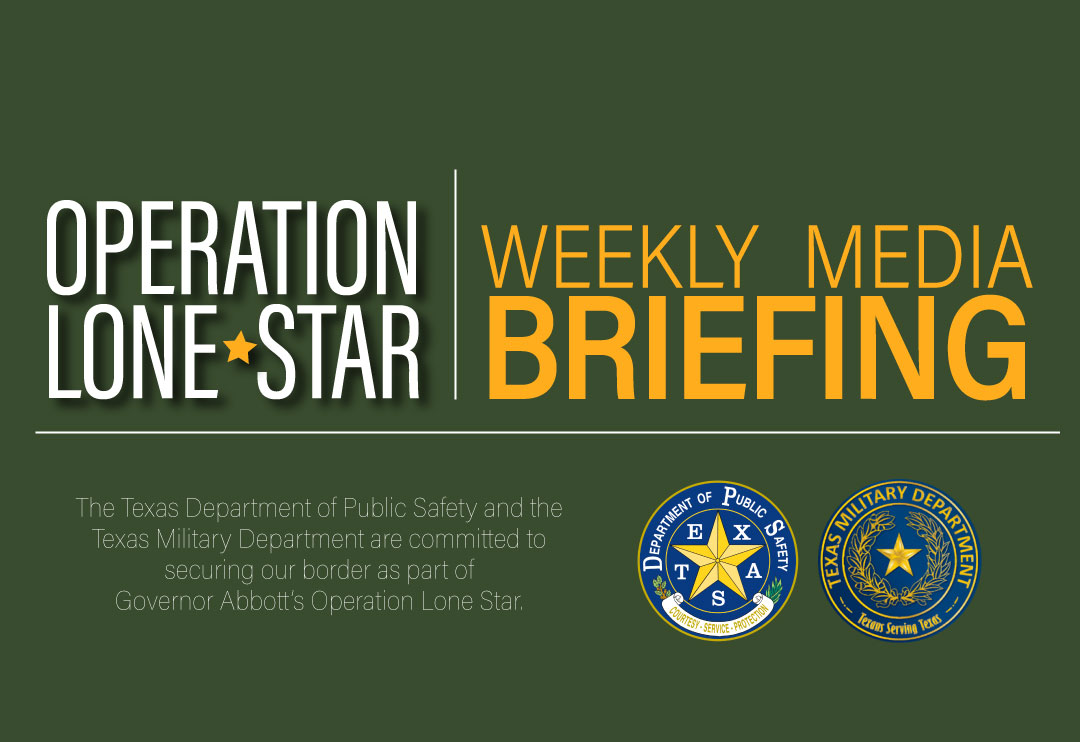 AUSTIN – The Texas Military Department (TMD) and the Texas Department of Public Safety (DPS) held a media briefing today to provide an update on the mobilization of resources by the TMD to strengthen the state as part of Operation Lone Star (OLS) at the direction of Gov. Greg Abbott. The briefing was held at DPS' regional headquarters in Weslaco.
DPS South Texas Regional Media Lt. Christopher Olivarez and TMD Maj. Michael Perry addressed the efforts at the border by the two partner agencies.
"The Texas National Guard is surging personnel, equipment and capabilities to the Texas and Mexico border region in support of Operation Lone Star," said Brig. Gen. Monie R. Ulis, Operation Lone Star Commander. "As we build our force, we remain ready to detect, block and apprehend individuals and groups conducting illegal activity."
Ulis has six task forces assigned to him, which include four operational task forces and one each that are support and engineering. The engineering task force is currently in Maverick, Val Verde and neighboring counties to build a temporary barrier and infrastructure along the border to protect property and secure Texas.
Thus far, 3.5 miles of fencing have been completed in Val Verde, with 35 miles additional planned. Another 27 miles of fencing is planned on private property in Maverick County. TMD has several thousand troops along the border, and will bring several thousand more in the next few weeks to assist with securing Texas as part of OLS.
In addition to manpower, TMD also has hundreds of items of tactical equipment assigned to help securing the border, stretching from Del Rio to Brownsville, as well as air assets. Additional pieces of tactical equipment will be brought to the border in the next few weeks to help with the mission.
DPS remains committed to working with TMD and its other partners to keep Texas secure as a part of OLS.
"We will remain at the border and focus on the core mission of OLS as long as is needed," said DPS Director Steven McCraw. "We are still making numerous arrests and seizing large quantities of drugs and guns, showing our presence there is necessary."
As of Oct. 14, DPS has made 7,744 criminal arrests. This includes 1,300 for criminal trespassing and 6,339 on felony charges. In addition, there were 73,031 migrant apprehensions and referrals and 822 vehicle pursuits.
Recent OLS activities of note include:
On Oct. 15 in Cameron County, the DPS Strike Team conducted a traffic stop in which the driver fled on foot and entered a house to escape officials. Law enforcement found the driver hiding in the garage. The man was a prior deported felon, who had 32 wrapped packages of cocaine weighing .019 pounds and transporting four migrants in the vehicle. The migrants were turned over to U.S. Border Patrol. While in DPS custody the driver damaged the windshield of a patrol vehicle.

On Oct. 15 in Cameron County, the DPS Strike Team and Cameron County Sheriff's Office executed a search warrant leading to the seizure of 34 firearms, 3.4 grams of cocaine, 12 ounces of marijuana, 21 ounces of methamphetamine, 8.3 grams of Xanax, 16 ounces of promethazine, 4.5 grams of LSD and 496 grams of THC oils and edibles.

On Oct. 19 in Starr County, DPS personnel, along with DEA, U.S. Border Patrol and the Starr County Sheriff's Office executed a search warrant in Rio Grande City, which resulted in the seizure of 49 bundles of marijuana that weighed more than 816 pounds.

On Oct. 19 in Val Verde County, Troopers conducted a traffic stop on a pickup truck with an enclosed trailer and found 21 migrants in the trailer. They were referred to U.S. Border Patrol.