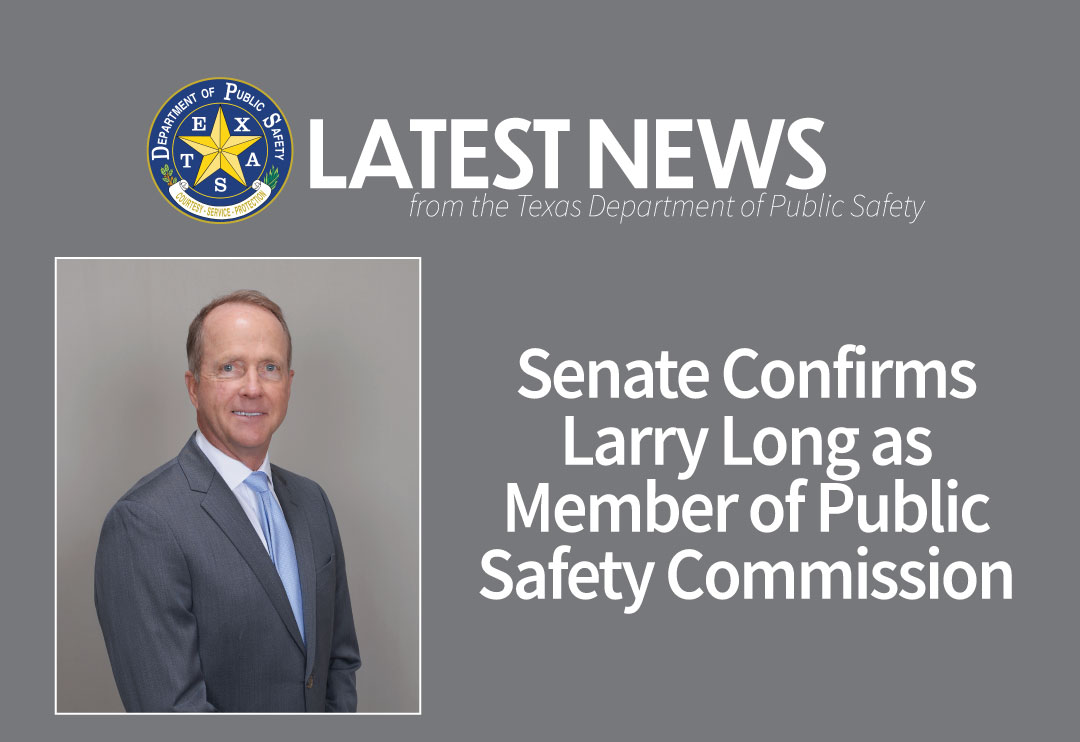 AUSTIN – Today, the Texas Senate confirmed Larry Long as the fifth member of the Public Safety Commission (PSC). The confirmation follows Long's appointment by Texas Governor Greg Abbott last month. His term will expire on Jan. 1, 2028.
"I am truly honored to be appointed by Governor Abbott to the Public Safety Commission," said Public Safety Commissioner Larry Long. "The mission to protect and serve the citizens of the state of Texas is something I am passionate about. It is the very basis of government, and I look forward to working hard with the other commissioners in making DPS an even greater organization."
Long joins Chairman Steven P. Mach and current members Nelda Luce Blair, Steve H. Stodghill and Dale Wainwright on the commission.
"We welcome Commissioner Long to the Public Safety Commission, and we look forward to working alongside him," said Chairman Mach. "From border security, the fight against fentanyl, securing schools and keeping our roads safe – Governor Abbott has made it clear public safety is a priority. I know Commissioner Long will be an asset to the commission as we work to make Texas safer for all." 
Long is the owner and managing member of L2JL Capital, LLC and is former president and chief executive officer of Texas Wall Systems, Inc. He has a real estate license with the Texas Real Estate Commission, is a member of the Texas Facilities Commission and former member of the Finance Commission of Texas.
Long is a former chairman and member of the American Diabetes Association Board of Directors, president of Oldcastle Building Envelope, treasurer of the Turtle Creek Association and member of the Seed of Effect Board of Advisors.
"By his extensive history of service, it is clear that Commissioner Long has a passion for serving Texans," said Commissioner Blair. "That is a passion we share. So, I'm honored to work side-by-side with him on critical issues like DPS' mission to secure the southern border through Operation Lone Star, the department's tremendous progress toward eliminating the backlog of sexual assault kits at state crime labs and many other challenges that affect the security of Texans."
"It's never been more important to have the full force of the Public Safety Commission serving the people of Texas," said Commissioner Stodghill. "Commissioner Long will be a tremendous asset as we focus on expanding high-demand services like driver licenses and growing the compassionate use program in order to better aid Texans for years to come."
"The challenges and threats to public safety are great, but so is our ability to shape the way we prepare and address them," said Commissioner Wainwright. "I know that together the Public Safety Commission will assist DPS in continuing its longstanding tradition of courtesy, service and protection. Together, we can help shape the future of the department and continue making public safety a priority here in the great state of Texas."
Long holds a Bachelor of Arts in Criminal Justice from Southern Methodist University. He and his wife Jana reside in Dallas where they are active members of Dallas Bible Church.
Long begins his duties as a member of the PSC immediately.
### (HQ 2023-015)