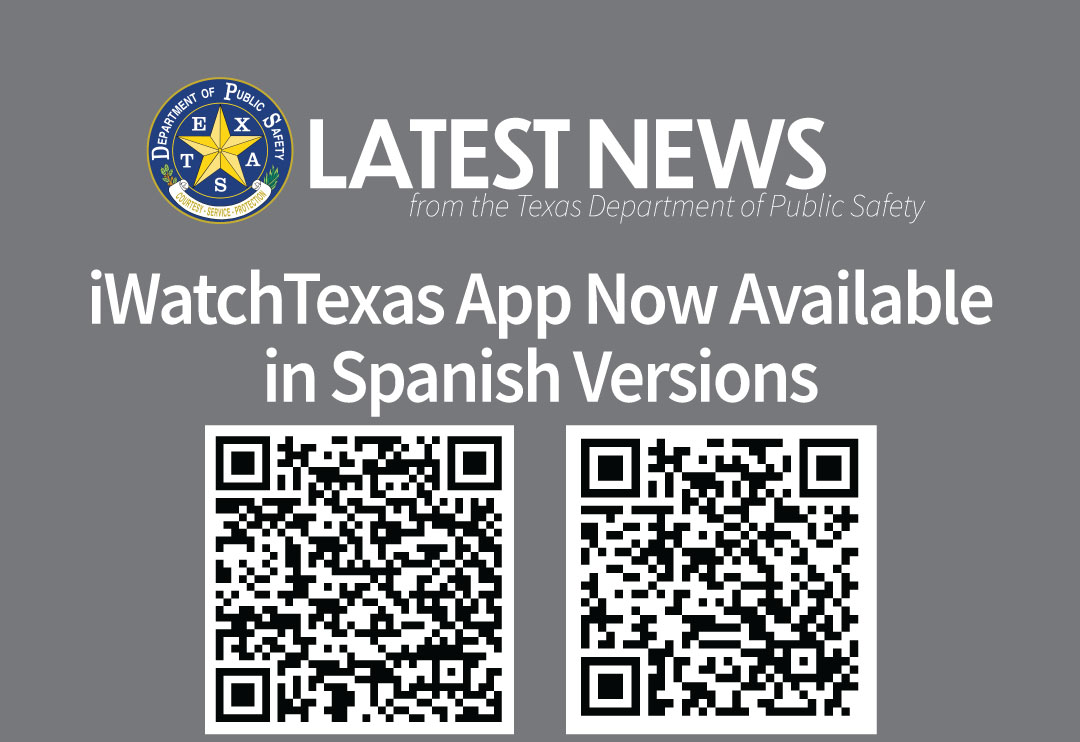 AUSTIN – Con el regreso a las escuelas en el estado de la estrella solitaria y la llegada del otoño, el Departamento de Seguridad Pública (DPS) se enorgullece en de presentar la aplicación iWatchTexas, ahora disponible en español, para usuarios de iOS y Android.
"Este es un paso importante para asegurar que más personas puedan usar fácilmente iWatchTexas," dijo el director de DPS Steven McCraw. "Esperamos que más personas descarguen la aplicación y se sientan confiados para usarla cuando vean algo sospechoso. Debemos utilizar las herramientas que tenemos disponible para mantener seguras a nuestras familias, nuestras comunidades y a nuestro estado de Texas."  
Una vez que un usuario descargue la aplicación iWatchTexas en su teléfono móvil, la aplicación detectará la configuración del idioma en su dispositivo y se cambiará al idioma preferido, sea el ingles o el español.
La aplicación iWatchTexas es un recurso crítico para reportar actividades sospechosas en las escuelas y comunidades para prevenir ataques peligrosos.
En el 2021, DPS notó un incremento de denuncias por la aplicación iWatch Texas, que en el año anterior.
iWatchTexas es una herramienta valiosa para comunicar sobre la seguridad escolar, ya que permite denunciar amenazas y obtener datos de la Red de Seguridad Escolar de Texas. DPS puede usar todos los recursos disponibles para proporcionar una mayor claridad de la situación y aumentar el intercambio de información entre las escuelas y agencias de la ley y orden, mientras que a la misma vez la privacidad de los estudiantes será protegida.
Las denuncias se pueden realizar a través del sitio web, la aplicación móvil gratuita iWatchTexas en iOS o Android, y también llamando al 844-643-2251. Todos los informes son confidenciales.
Para obtener información sobre cómo usar iWatchTexas, puede ver este video instructivo.
Recuerde, iWatchTexas no es para las emergencias. Si hay una emergencia en una escuela o en una comunidad, llame al 911 inmediatamente.
###
iWatchTexas App Now Available in Spanish
AUSTIN – As we welcome in a new season and kids settle back into their classrooms, the Texas Department of Public Safety (DPS) is proud to announce that the iWatchTexas app is now available in Spanish for iOS and Android users.
"This is an important step in making sure more people can easily use iWatchTexas," said DPS Director Steven McCraw. "Our hope is more people will download the app and then not be afraid to use it when they see something suspicious. We must continue to utilize the tools we have available to keep our families, our communities and really our state, safe."
Once a user downloads the iWatchTexas app on their phone, the app will detect the user's phone settings, including their language of choice. If the user has selected Spanish for their phone, they will see the Spanish version, while if they have English selected, they will see the English version.
The iWatchTexas program is a critical resource for reporting suspicious activity in schools and communities in order to help prevent dangerous attacks.
In 2021, DPS saw a notable increase in iWatchTexas reporting compared to the previous year. iWatchTexas is a valuable tool for school safety reporting because it adds important threat information to the Texas School Safety Network. DPS is then able to use all of the available information to provide greater situational awareness and increase sharing between schools and law enforcement agencies, while still protecting the privacy of the student.
Tips can be reported via the website, the free iOS or Android mobile app or by calling 844-643-2251. All reports are confidential. For information on how to use iWatchTexas, you can view this how-to video.
Remember, iWatchTexas is not for emergencies. If there is an emergency on a school campus or in a community, call 911 immediately.
### (HQ 2022-067)