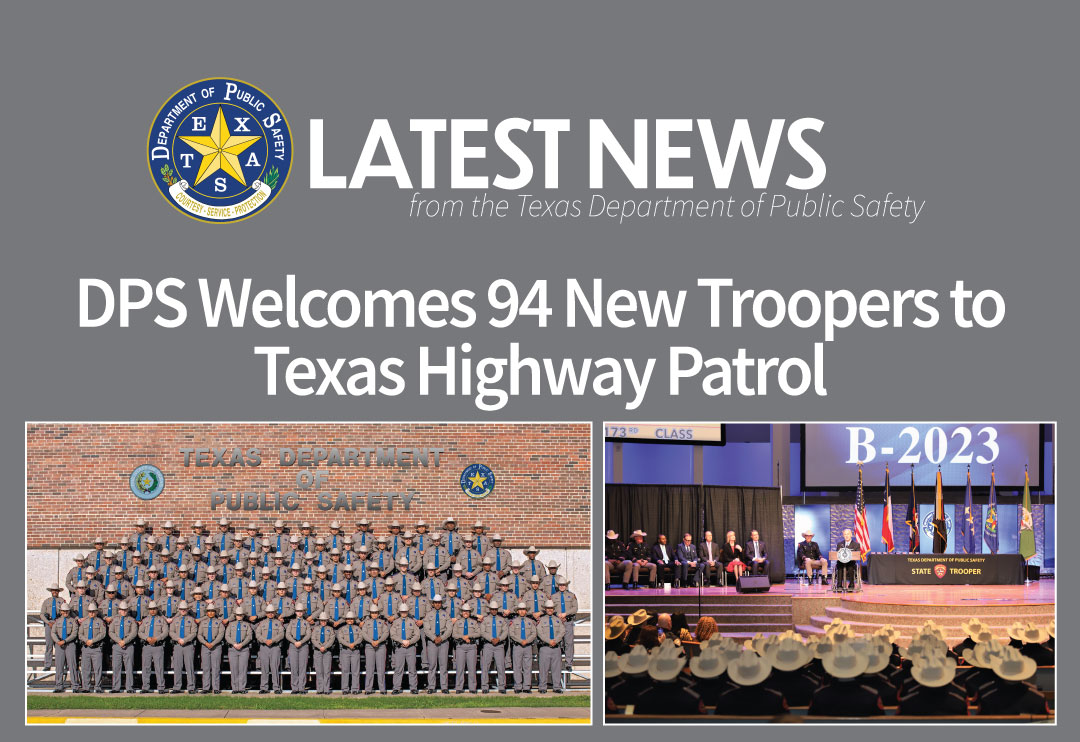 AUSTIN – The Texas Department of Public Safety (DPS) commissioned 94 new Texas Highway Patrol Troopers from recruit class B-2023 during a graduation ceremony on Friday, Nov. 17, which was held at Great Hills Baptist Church in Austin.
The department was honored to have Governor Greg Abbott serve as the keynote speaker.
"As you take your oath today as DPS Troopers, you are answering a higher calling to protect and serve our state and all who call it home," said Governor Abbott. "DPS troopers are the go-to team to protect our state, acting as the first on the scene at major emergencies and saving lives. Thank you for your service, commitment, and bravery to Texas and to Texans. You are now part of the DPS legacy—a legacy built by heroes. Congratulations Recruit Class B-2023 on this tremendous achievement."
Other special guests in attendance included Eric Nichols, Chairman of the Texas Board of Criminal Justice; Jill Durst, Board Operations Manager for the Texas Board of Criminal Justice; and Chief Neil Noakes, Fort Worth Police Department.
This is the department's 173rd recruit class. Earlier this year, a total of 1,887 candidates originally submitted applications for the class. Only 122 Trooper Trainees were selected to begin the DPS Academy on April 24, and of those 122 only 94 successfully completed the entire 30-week school to graduate.
"These 94 men and women have made the choice to live a life of service," said DPS Director Steven McCraw. "While I can't promise it will be an easy one, I can promise it will be a life that means something, and that DPS will be here to support them and their loved ones every step of the way."
During the 30-week in-resident Academy, Trooper Trainees receive more than 12-hundred hours of instruction. This exceeds the mandatory licensing requirement of 720 hours established by the Texas Commission on Law Enforcement (TCOLE). The comprehensive training comes from experts on various topics, including criminal and traffic law enforcement, crash investigation, crisis intervention, use of force, criminal investigations, communications, cultural diversity, fitness and wellness, and emergency medical assistance.
In addition to the required medical objectives, Trooper Trainees also receive components of the Tactical Emergency Casualty Care training to include trauma assessment, bleeding control and treatment of shock. The training prepares them to work as a Highway Patrol Trooper anywhere in the state, including in remote areas and extreme terrains.
Trooper Trainees conclude their rigorous training with a Joint Field Training Exercise, culminating scenarios and training events that simulate a potential day in the life of a Texas State Trooper. Trooper Trainees utilize skills and knowledge obtained throughout the academy and participate in approximately 25 scenarios utilizing inert training weapons ranging from vehicle pursuits to compliant driver traffic stops. It finishes with a Legacy Run to the State Capitol Peace Officer Memorial where they participate in a patch ceremony.
Here are some other class highlights: 
79 males and 15 females

Range in age from 21 to 43

30 military veterans

10 recruits with prior law enforcement experience

6,294 push-ups completed on the final fitness test

7,820 crunches completed on the final fitness test

94,201 total meters rowed during the 4-minute row test
The newly commissioned Troopers will report to their individual duty stations across the state of Texas on Dec. 10.
See additional photos from today's ceremony on the DPS Facebook page.
### (HQ 2023-069)