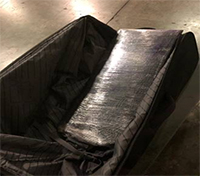 LAREDO – The Texas Department of Public Safety (DPS) seized more than 16 pounds of methamphetamine during a traffic stop on Friday, September 11, in Webb County.
At approximately 6:18 pm, a DPS trooper stopped a 2013 Cadillac passenger car near the intersection of State Loop 20 and Mines Road for a traffic violation. The driver evaded arrest on foot and was apprehended shortly after. The Trooper then discovered two taped-wrapped bundles of methamphetamine inside the vehicle.
The driver, Luis Ronaldo Flores, 22, of Laredo, Texas, was arrested and charged with felony possession of controlled substance, and was booked into the Webb County Jail. DPS Criminal Investigation Division in a joint investigation with the Drug Enforcement Administration are further investigating this case.
### (DPS-South Texas Region)