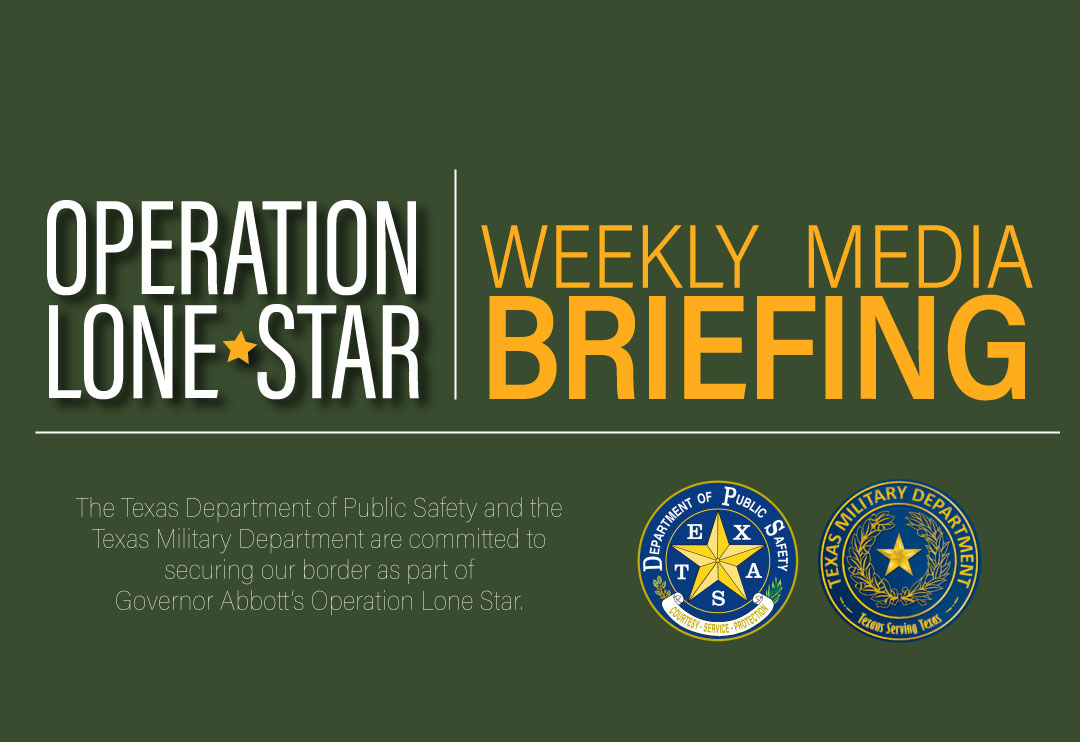 AUSTIN – The Texas Department of Public Safety (DPS) and the Texas Military Department (TMD) hosted a media briefing Thursday featuring the Texas Department of Criminal Justice (TDCJ) to provide an update on Operation Lone Star (OLS). The briefing was held at DPS' regional headquarters in Weslaco.
DPS Regional Director Victor Escalon, TMD Maj. Mike Perry and the Segovia Unit Senior Warden Felipe Gonzalez discussed the progress of OLS, focusing on the process of apprehensions, arrests and detentions.
"The state of Texas is sending a message to anyone who is thinking of crossing into our country illegally: If you are caught on private property, you will be arrested for criminal trespassing and put in jail," said DPS Director Steven McCraw. "We must continue working to secure our border in order to protect the people of Texas from public safety threats that are a direct result of the federal government's failure to properly address this issue."
DPS is carrying out the mission of OLS by focusing on the border counties of Val Verde and Kinney, both high traffic regions for people attempting to illegally cross from Mexico into Texas. DPS is working with permission from private landowners to make arrests of people who are illegally trespassing on their properties. DPS and TMD then coordinate operations, including using drones and other aircraft, to make arrests in those areas. Upon arrest, the individuals are transported to a processing center in Del Rio, where they are photographed, fingerprinted and appear before a magistrate before being taken by bus to either the Dolph Briscoe Unit in Dilley or the Segovia Unit in Edinburg.
"The Texas National Guard works alongside the Texas Department of Safety to interdict and apprehend criminal activity on privately owned property along the Texas-Mexico border," said Brig. Gen. Monie Ulis, Texas Military Department Border Commander. "The Guard is ready to surge personnel, equipment and capabilities to any region along the Texas-Mexico border to safeguard Texans' property and the country."
Other recent OLS activities of note include:
On Nov. 1 in Cameron County, Troopers seized 3 grams cocaine, 27 pounds THC and $30,000. A man was charged with possession of a controlled substance and money laundering.

On Nov. 4 in Starr County, DPS Special Agents, along with federal partners, intercepted a vehicle at a point of entry and seized more than 35 pounds of cocaine.

On Nov. 6 in Hidalgo County, DPS Special Agents, in an investigation with federal partners, intercepted a suspected narcotics courier and seized about 65.5 pounds of cocaine in a vehicle.

On Nov. 10 in Starr County, DPS, TMD and the U.S. Border Patrol apprehended eight migrants who were in rafts in the river with two smugglers, including a previously deported felon. As DPS arrested the smugglers, they resisted and assaulted officials. The guide and felon were charged with assault on a public servant, resisting arrest and human smuggling. The migrants were turned over to Border Patrol.

On Nov. 10 in Hidalgo County, DPS Special Agents seized about 60 pounds of cocaine from a charter bus. A person was charged with possession of a controlled substance.

On Nov. 15 in Webb County, Troopers seized $85,072 from gang members, who were subsequently charged with possession of marijuana and money laundering.

On Nov. 17 in Brooks County, Troopers seized about $1.5 million and two handguns from a motor vehicle.