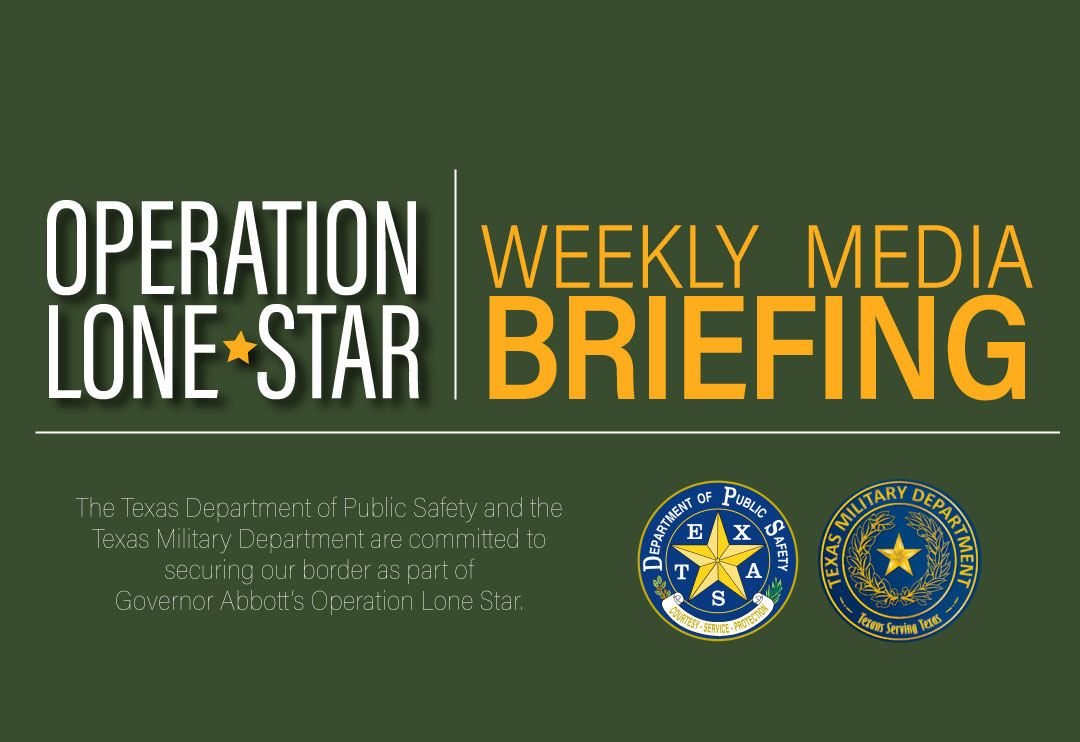 AUSTIN – The Texas Military Department (TMD) and the Texas Department of Public Safety (DPS) today held a briefing at DPS' regional headquarters in Weslaco to discuss progress made so far during Operation Lone Star (OLS), the mission to secure the southern border under the direction of Governor Greg Abbott.
Today's briefing discussed the significant achievements of OLS which was launched by Governor Abbott on March 4. Since then air, ground and marine operations have successfully disrupted the operations of Mexican cartels, human and drug smugglers, as well as other threats crossing the border into Texas.
"Texas Guardsmen leave their homes to support their state and prevent criminal elements from entering Texas," said Maj. Gen. Tracy Norris, the Adjutant General of Texas. "We have a long history of enduring relationships with local, state and federal agencies in conducting Homeland Security missions that dates back more than 100 years, and we are proud to continue this legacy as Texans serving Texas."
The TMD's primary mission in OLS is to observe and report any illegal activity in high drug and human trafficking areas. In August, Governor Abbott announced he was sending additional Guardsmen to the border, bringing the current number to around 1,000.
"One of the most significant threats to public safety and homeland security in Texas is an unsecured international border with Mexico," said DPS Director Steven McCraw. "The failure to secure it has enabled the Mexican cartels to evolve into the most powerful and ruthless criminal organizations in the world, reaping billions of dollars from the trafficking of people and illicit drugs throughout the nation. DPS remains committed to enforcing the law and thwarting these criminals."
As referenced in the briefing, as of Sept. 2, DPS has made:
5,298 criminal arrests;

694 vehicle pursuits;

64,959 migrant apprehensions and referrals; and

278,191 Drawbridge detections, which use real-time motion detection cameras on properties along the border.

In addition, from March 4 through Sept. 8, DPS has arrested 199 known gang members.
There are six Mexican cartels that control areas of access into Texas and use violent, transnational and Texas-based gangs to transport illicit drugs and traffic people, operate stash houses, conduct enforcement operations and provide retail drug distribution in communities throughout the state. Disrupting these gang and cartel activities has a direct impact on what happens in Texas and the U.S.
From October 2020 through September 2021, there have been a record number of migrant apprehensions and referrals in Texas, totaling more than 1.1 million people. The previous record was just more than 726,000 in 1986, when Mexican cartels did not pose the threat to public safety that they do today.
Since OLS began, DPS has seen a steep increase in vehicle pursuits. In the Del Rio area, pursuits are up 774% through July of this year with 236, compared to 27 in 2020. In the Laredo area there is an 86% increase year-over-year, with 140 in 2021 compared to 75 the year before. Similarly, the Rio Grande Valley saw a 40% increase in pursuits, with 163 through July 2021, compared to 116 in 2020.
Another joint briefing is set for DPS' regional headquarters in Weslaco on Thursday, Sept. 23, at 10 a.m.
Additional Photos: