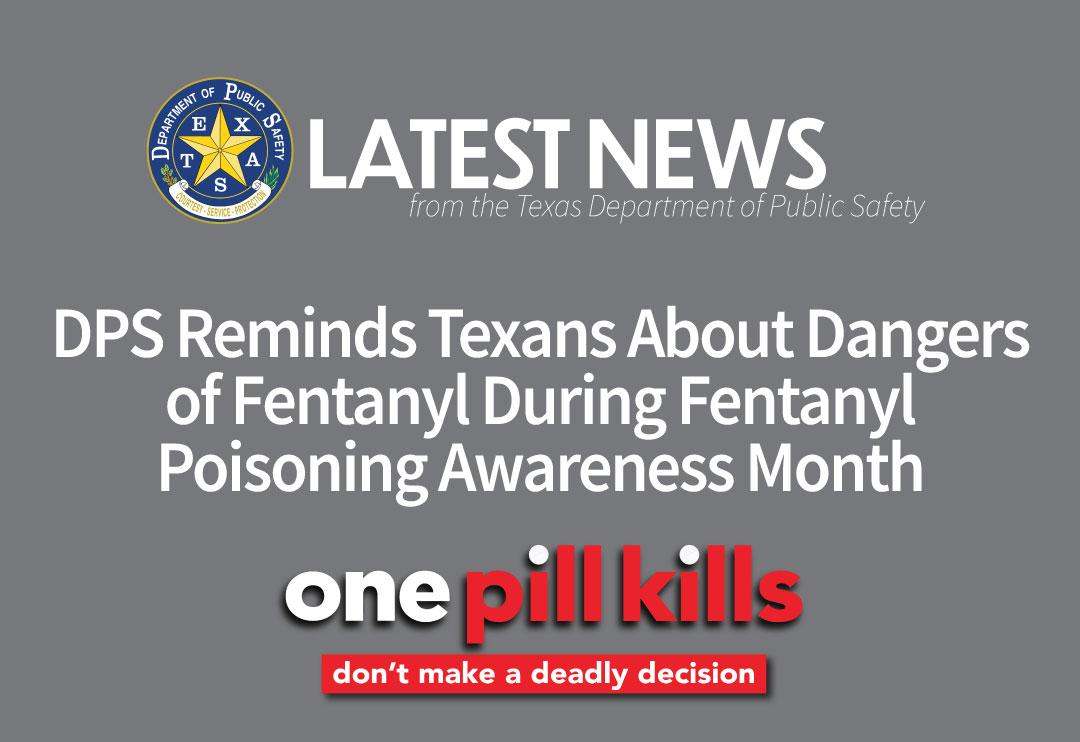 AUSTIN – This October marks the first ever Fentanyl Poisoning Awareness Month in Texas as established by Governor Greg Abbott earlier this year. In order to help the state continue its fight against this dangerous and deadly drug, the Texas Department of Public Safety (DPS) is increasing its public awareness campaign and reminding Texans to take action now in order to help save lives.
"We thank the Governor for his leadership on this issue and for making Texas a leader in this fight," said DPS Director Steven McCraw. "Fentanyl continues to be one of the biggest threats facing Texans of all ages as it flows across our southern border and into cities and towns across this country. We are losing too many innocent lives and we must continue to do everything we can not only to stop it from entering the United States, but also to educate our children, our parents, our teachers - everyone in our communities about how dangerous this drug is to every single American."
Fentanyl makes its way into our communities as a consequence of an unsecure southern border. In March 2021, at the direction of Governor Abbott, DPS launched Operation Lone Star (OLS) to secure the border and stop the smuggling of drugs and people into Texas; and prevent, detect and interdict transnational criminal activity between ports of entry. Since OLS began, DPS has seized over 431 million lethal doses of fentanyl across the state.
To help increase awareness, during the month of October DPS will launch a series of social media videos geared at educating Texans about the dangers of fentanyl and directing them to available resources through the One Pill Kills campaign. Governor Abbott launched One Pill Kills in 2022, as a way to educate Texans on how to prevent, recognize and reverse fentanyl poisonings.
The department's Safety Education team is also offering specialized programing to schools, churches, community groups and other organizations that would like to learn more about the statewide One Pill Kills campaign and the dangers of fentanyl. This presentation can be tailored for a variety of audiences and age groups and is available free of charge. To learn more, contact a Safety Education team member in your area using the drop-down menu, here.
DPS continues with other awareness efforts which began as part of the multi-pronged One Pill Kills campaign, including public service announcements which air in the waiting areas of more than 180 driver license offices across the state, educational signage in more than 350 public facing DPS buildings statewide and a dedicated webpage housing resources and information about the campaign. Visit www.dps.texas.gov/onepillkills to learn more.
### (HQ 2023-059)