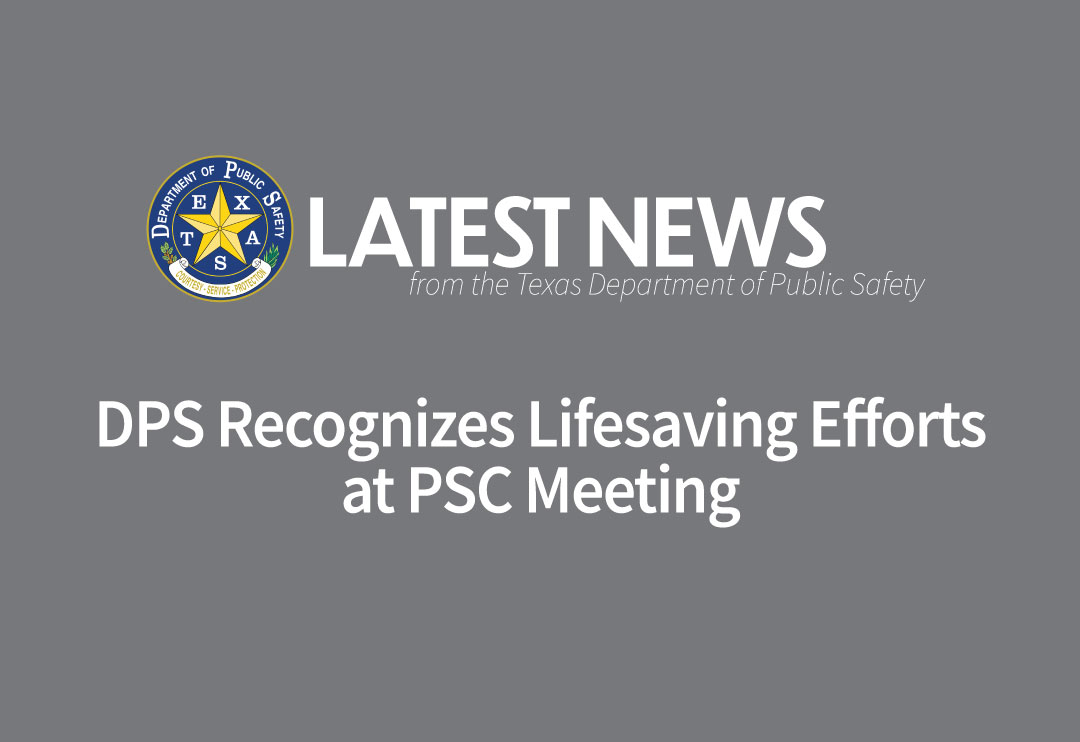 AUSTIN – The Texas Public Safety Commission (PSC) along with Texas Department of Public Safety (DPS) Director Steven McCraw awarded two Director's Citations; seven Lifesaving Awards; and one Purple Heart to department personnel at the PSC meeting on Thursday, Oct. 14, at DPS Headquarters in Austin. One Director's Award was also presented to a member of a partner agency at the meeting.
"I commend these individuals for their actions, which exemplify the devotion they show to their profession on a daily basis," said DPS Director Steven McCraw. "Public safety is a 24-hour-a-day job, and these individuals work tirelessly to better the state of Texas."
The following individuals were recognized:
Trooper Travis Wroten, Highway Patrol — Conroe, and Trooper Joe Hernandez, Highway Patrol — Rio Grande City, each received a Director's Citation for their actions on Nov. 18, 2020. The pair arrived at the scene of an active shooting and spotted an injured woman on the ground about 25 feet from the house. When Walker County Sheriff's deputies arrived, Wroten and Hernandez approached the woman, who had been shot and was unable to move. Hernandez got a tarp from a child's tent on the property and asked deputies to provide cover so he and Wroten could drag her to safety. Out of the shooter's line of sight, she was given immediate medical attention from EMS personnel on the scene. (Hernandez was unable to attend Thursday's PSC meeting.)
Tech. Sgt. Jason Bazan, Tactical Marine Unit, Highway Patrol — Weslaco, received a Lifesaving Award for his actions on May 27. The U.S. Border Patrol received a drawbridge alert about suspected non-citizens in the area of La Prieta. The Tactical Marine Unit (TMU) and Border Patrol responded and found more than a dozen suspected non-citizens running toward the Rio Grande River to abscond to Mexico. Within minutes, one of the men started to struggle and was unable to keep his head above water because his foot was stuck in a submerged branch. Bazan took off his gun belt, jumped in the river and was able to grab him. He kept his head above the water so he could breathe and brought him safely to the riverbank.
Trooper Jacob Buskohl, Highway Patrol — Waco, Trooper Stephen Jeter, Highway Patrol — Waco, Trooper Francisco Velez-Anderson, Highway Patrol — Waco and Trooper Madison Zaragoza, Highway Patrol — Belton, each received a Lifesaving Award for their actions on March 14. Velez-Anderson and Jeter were the first to arrive on the scene of a one-vehicle crash on Interstate 35 and found two people performing CPR on an unresponsive man. The Troopers immediately took over. Buskohl arrived soon after and the trio took turns performing chest compressions. Officers with Lacy Lakeview Police arrived and assisted with CPR and provided scene security, and officers with Texas State Technical College provided an Automated External Defibrillator (AED). Buskohl attached the AED and monitored the victim. Zaragoza arrived at the scene and assisted with CPR. EMS arrived and continued the medical care, and the victim regained a pulse and was breathing on his own before he was taken to a hospital. (Velez-Anderson and Zaragoza will be honored at a later date.)
William "Aaron" Wallace, Criminal Investigations Division (CID) — Hurst, received a Purple Heart for his actions on April 23. Wallace observed a vehicle driving recklessly on U.S. 287 in Fort Worth and followed it to a home address. He then approached the front door, knocked, announced his presence as a law enforcement officer and displayed his badge and credentials. While standing near the door, Wallace was struck in the upper torso by a bullet fired from inside the house. Wallace was able to get emergency personnel to the scene and was treated for his injury.
Trooper Juan De La Garza, Highway Patrol — San Antonio, and Trooper Madison Zaragoza, Highway Patrol — Belton, each received a Lifesaving Award for their actions on May 20. The Troopers were notified of four people who appeared to be in distress and discovered three men and a woman in the southbound shoulder of the highway. One of the men appeared to be suffering from malnutrition and dehydration. The Troopers asked for assistance from EMS and Border Patrol, then put the man in De La Garza's patrol vehicle to cool him off. A few minutes later the man stopped breathing. Troopers immediately removed him from the vehicle, Zaragoza got his CPR rescue mask while De La Garza began performing chest compressions. The man began breathing again but remained unresponsive. Other Troopers arrived and provided shade to the victim and tried to lower his body temperature using wet towels. After a few minutes the victim stopped breathing again, so De La Garza and Zaragoza resumed CPR until the victim began breathing on his own. The Troopers monitored the victim until EMS arrived. (Zaragoza will be honored at a later date.)
Trooper Austin Hangebrauck, Highway Patrol — Sinton, and Trooper Armando Martinez, Highway Patrol — Edinburg, each received a Lifesaving Award for their actions on May 9. Martinez was driving on U.S. 281 when he saw a pickup truck that was on its roof. Martinez approached the truck and saw the interior of the cab was on fire with a man inside. Martinez entered the pickup through the window and tried to extract the victim, however, the victim's foot was wedged between the steering wheel and the driver's seat. Hangebrauck arrived and helped Martinez pull the man out of the truck. When the Troopers got him out, they noticed his upper torso and shirt were on fire. The pair tore off the victim's shirt and were able to extinguish the flames, then extinguished the fire in the pickup truck. Shortly after, EMS arrived and began treatment then took the victim to the hospital. Although he had severe burns on his upper torso, head and face, he survived.
Trooper Michael Chapman, Highway Patrol — Belton received a Lifesaving Award and Cpl. Samantha Mikeska, Bell County Sheriff's Department, received a Director's Award for their actions on Dec. 24, 2020. Chapman and Mikeska responded to a call of a possible overdose. Upon arrival they found a male on the floor with his face blue and his breathing labored. Mikeska located a shallow pulse, so Chapman handed Mikeska a dose of NARCAN, which she administered to the victim. The male's pulse strengthened, but there were no additional improvements. Sparta Volunteer firefighters arrived and provided oxygen while Chapman gave a second NARCAN dose. The male's breathing did not improve but his pulse stayed strong. EMS arrived, began treatment and took the victim to the hospital.
We thank all of today's recipients for their heroic actions.
Photos from today's ceremony: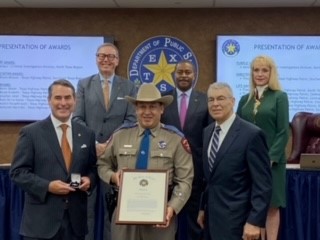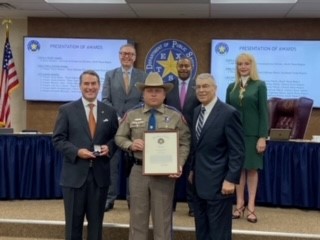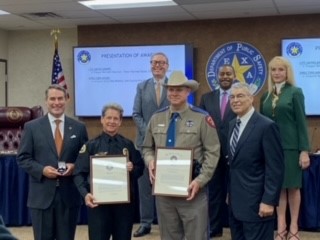 ### (HQ 2021-068)