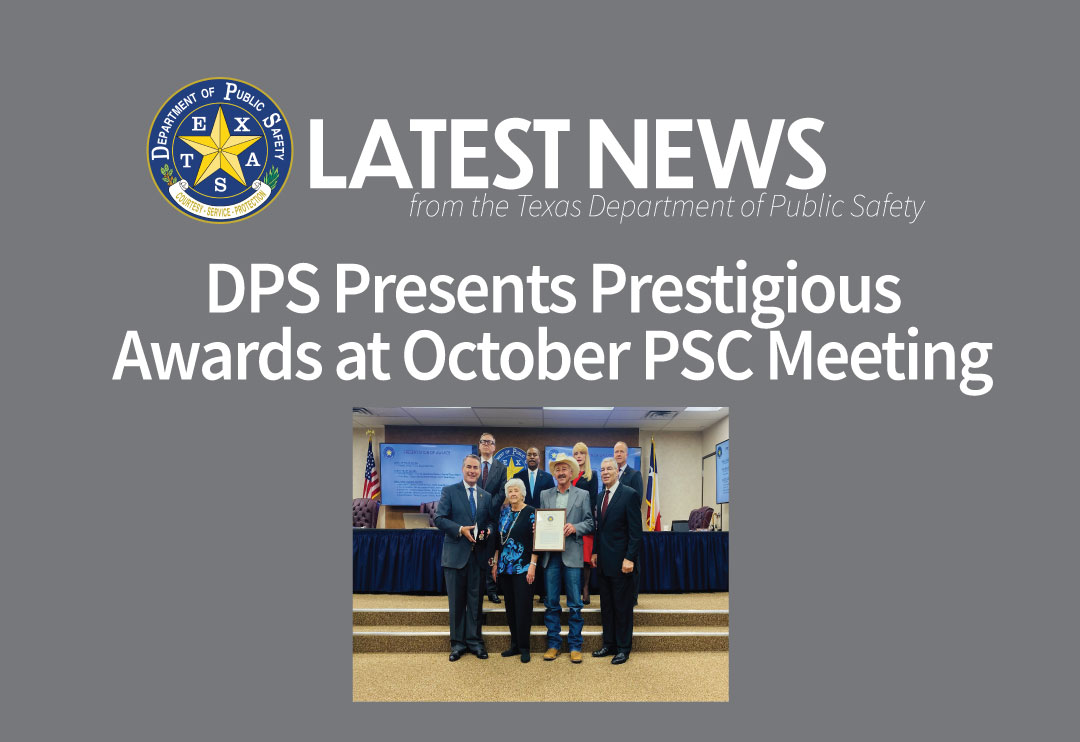 AUSTIN – On Thursday, Oct. 26, 2023, the Texas Public Safety Commission (PSC), along with Texas Department of Public Safety (DPS) Director Steven McCraw, presented several prestigious awards to DPS personnel, including a Medal of Valor, two Purple Hearts, five Director's Citations, nine Lifesaving Awards and two Unit Citations. The Awards were presented at the Public Safety Commission meeting at DPS Headquarters in Austin. Four Director's Awards were also given to law enforcement personnel outside the department.
"These awards are a testament to the courageous acts that take place every day by the men and women who serve Texas," said DPS Director Steven McCraw. "To hear their stories and know the actions they've taken in order to save a life and put others first is truly remarkable. It is an honor to be able to recognize them here today."
The following individuals were recognized:
Texas Ranger Thomas Arnold was awarded the Medal of Valor in recognition of his courage during a violent and life-threatening situation on Oct. 13, 1971. That night, a man wanted for assault with intent to commit murder, attempted to murder a Euless Police (EPD) Officer during a traffic stop. He fled the scene and went into a home in Bedford, taking the family inside hostage. A teenager inside was able to escape and alert authorities, leading to a standoff the following day.
Ranger Arnold was involved with the all-night manhunt for the suspect, and when he got information about the standoff in Bedford, headed toward the scene. Prior to the Ranger's arrival, the suspect forced the family into their vehicle at gunpoint and ordered the mother to drive. Still on his way, Ranger Arnold became involved in the pursuit of the vehicle, which eventually ended when an EPD officer blocked the road. Ranger Arnold disregarded his own safety and parked his DPS vehicle directly behind the hostage vehicle in order to communicate with the suspect. The mother, a 5-year-old child and the father were all in the vehicle, with the suspect holding a sawed-off shotgun to the back of the father's head.
Officers tried but failed to negotiate the safe release of the hostages. Ranger Arnold realized the suspect had no intention of surrendering, so he positioned himself in the right spot in order to minimize the risk to the hostages if he was indeed forced to take a shot on the suspect. As the situation deteriorated, the suspect became distracted and momentarily moved the shotgun from the father's head. Ranger Arnold seized the opportunity and fired one round through the rear windshield, striking the suspect. Ranger Arnold left cover and moved toward the vehicle while drawing his sidearm and placing himself between the suspect and fleeing hostages. Ranger Arnold instinctively, and with steadfast resolve, fired three shots into the suspect, ending the terrifying incident and allowing the family to escape unharmed. For his heroic actions, Ranger Arnold is awarded posthumously the Medal of Valor. Ranger Arnold's widow, Martha, and his son, Tom Jr., were present to accept the award.
Senior Trooper Kenneth Pittman, Training Operations Division – Tactical Training Center, was awarded a Purple Heart in recognition of his great personal sacrifice and professional performance during which he sustained serious injury. On Jan. 11, 1987, Trooper Kenneth Pittman was on routine patrol in Midland County when he became involved in a vehicle pursuit. During the pursuit, the assailants opened the back doors of the van and fired a shotgun, striking the windshield of Trooper Pittman's patrol unit. The broken glass injured Trooper Pittman's eyes and impaired his vision, causing him to drive off the road and through a fence. Once his vehicle stopped, the assailants drove up to the crash site and fired two additional rounds at Trooper Pittman, one striking the driver's side window and the other hitting the left rear of the patrol unit. Trooper Pittman was able to exit the vehicle and return fire despite his impaired vision, striking one of the assailants. That person was helped back into the van and the assailants fled the scene. 
Trooper Pittman was transported to Midland Memorial where he underwent treatment to remove the glass fragments from his eyes, as well as treatment for several bruised ribs and a twisted knee. Approximately one month later, Trooper Pittman returned to full duty.
Trooper Curtis Putz, Texas Highway Patrol Division – Corsicana, was awarded a Purple Heart. On Jan 31, 2023, Trooper Curtis Putz was seriously injured in the line of duty due to icy road conditions in the North Texas Region. As he was applying personal protective equipment outside of his patrol unit at the scene of a crash, another vehicle lost control on the ice and collided with Trooper Putz's patrol unit, putting him between his vehicle and the concrete barrier. The crash caused the patrol unit to run over Trooper Putz and pin him underneath. Fellow Troopers, firefighters and tow truck operators who were already on scene, used various tools to raise the patrol unit off Trooper Putz and ease his breathing. Then, additional resources deployed to extricate him from under the unit and triage his condition until he could be transferred to the hospital for continued treatment. Trooper Putz has undergone numerous surgeries and a tremendous amount of rehabilitation on his road to recovery.
In recognition of his personal sacrifice and professional performance in which he sustained serious bodily injuries, Trooper Curtis Putz is hereby awarded the Purple Heart.
John Burris, Tierra Caradine, Steven Hill, John Lockhart, Driver License Division – Dallas South, and Frank Pritchett, Driver License Division – Rockwall, received a Director's Citation for their decisive action and response in a life-threatening situation. On May 9, 2023, License and Permit Specialist Shireda Lewis was processing a customer for an identification renewal when external checks indicated the customer had a warrant for assault with a deadly weapon. The team informed Texas Highway Patrol Trooper Stephen Lister of the active warrant, and as he attempted to make the arrest, the subject tried to escape. As Trooper Lister pursued the subject, both fell to the floor and Trooper Lister suffered a broken kneecap, rendering him incapacitated. Driver License employees Frank Pritchett, Tierra Caradine, John Lockhart, John Burris and Steven Hill immediately came to his aid and assisted in apprehending the subject. The employees detained the subject, who made two more attempts to flee before other law enforcement officers arrived at the office to take the subject into custody. For their quick actions, these employees are awarded a Director's Citation.
Trooper Brandon Aquino, Texas Highway Patrol Division – Port Lavaca, Trooper Cole Duvall, Texas Highway Patrol Division – Mineral Wells, were awarded a Lifesaving Award, and Deputy Elizabeth Aguirre, Kinney County Sheriff's Department was awarded a Director's Award. On May 9, 2022, Trooper Brandon Aquino assisted the Kinney County Sheriff's Department with a vehicle pursuit that ended with shots being fired. The subject sustained multiple gunshot wounds, some causing arterial bleeding. Trooper Aquino, along with Trooper Cole Duvall and Kinney County Sheriff's Deputy Elizabeth Aguirre, provided lifesaving efforts without hesitation. Trooper Aquino assisted in successfully applying multiple tourniquets and chest seal bandages, stabilizing the subject until EMS personnel arrived on the scene. These three individuals are recognized for their decisive and professional response to a life-threatening situation which resulted in the saving of a life
Trooper Crystal Hall, Texas Highway Patrol Division – Burnet, was awarded a Lifesaving Award, and Officer Ashley Doran, Llano Police Department, Doctor Richard Debehnke, M.D. and Tristan Monks, Lake Travis Fire Department were awarded Director's Awards. On Jan. 13, 2023, Trooper Crystal Hall responded to a radio broadcast of an 83-year-old female that was choking at a local restaurant. When Trooper Hall arrived, Lake Travis Firefighter and Paramedic Tristan Monks, Doctor Richard Debehnke and Llano PD Officer Ashley Doran were already performing chest compressions on the victim. Trooper Hall immediately collaborated with these personnel to continue lifesaving medical attention. When EMS arrived, they employed a CPR machine and a four-lead ECG cardiac monitor. With continued medical treatment, the victim's pulse returned, and she became alert and began communicating with personnel. The victim was flown to a medical center where she made a full recovery.
Trooper Troy Bridier, Texas Highway Patrol Division – Stephenville, was awarded the Lifesaving Award for his response to a life-threatening situation on March 3, 2022. That day, Trooper Bridier responded to the scene of a male subject experiencing serious bleeding following a job site injury. The victim was lying on his back with his feet elevated and a co-worker was applying pressure to the wound located on the subject's right inner thigh when Trooper Bridier arrived. He immediately applied a tourniquet and continued to monitor the subject while communicating to responding personnel. Shortly after, Bluff Dale Volunteer Fire Department EMTs arrived and assisted in applying a second tourniquet. Erath EMS then arrived on the scene to continue medical care and transported the victim to a local hospital for additional care.
Trooper Justin Craig, Texas Highway Patrol Division – Longville, received a Lifesaving Award for his actions on Dec. 26, 2022. Trooper Craig overheard a report from the Longview Police Department regarding a drug overdose in progress. He was nearby and was the first on the scene when he discovered an unconscious subject in the driver's seat of an SUV. As a drug recognition expert, Trooper Craig realized the subject's cold clammy skin, shallow breathing and pulse, and extremely constricted pupils were indications of a narcotics-related overdose. Trooper Craig administered Narcan to the subject as quickly as possible. When Longview PD Officers arrived, Trooper Craig requested assistance to remove the subject from the vehicle and placed him on the ground in a recovery position. When the subject's symptoms did not subside, he administrated additional Narcan. EMS personnel arrived shortly thereafter and transported the subject to a medical center. While in transport, the subject began to regain consciousness, and by the time Trooper Craig arrived at the medical center, the subject was fully alert and able to communicate.
Trooper Toby Clifton, Texas Highway Patrol Division – Henderson, was awarded the Lifesaving Award for his actions on Jan. 19, 2023. Trooper Clifton arrived on the scene to assist Rusk County Sheriff's Deputies with a welfare check of a suicidal subject. He observed Deputies struggling with the subject who was covered in blood. After assisting, Trooper Clifton noticed the subject had arterial bleeding from his right forearm. Without hesitation, Trooper Clifton applied a tourniquet to the upper bicep, which significantly slowed the loss of blood. Trooper Clifton also applied a pressure dressing to further address the injury. Ultimately, the subject became somewhat compliant and was able to be transported to a local hospital where physicians were able to repair the artery.
Trooper Stephen Cantu, Texas Highway Patrol Division – Rio Grande City, Trooper Sandra Mendoza, Texas Highway Patrol Division – Luling, and Trooper Ramon Martinez, Texas Highway Patrol Division – Brownsville, were all awarded Lifesaving Awards for their quick-thinking actions on Jan. 29, 2023. That day, Trooper Martinez was conducting a commercial vehicle inspection when a bus driver approached and requested assistance with a passenger displaying erratic behavior. The subject was escorted off the bus and Trooper Martinez requested EMS assistance as he suspected a drug overdose. Five minutes later, the subject lost consciousness. Troopers Cantu and Mendoza arrived on the scene and assisted Trooper Martinez with administering Narcan. The subject regained consciousness and stopped the erratic behavior. Trooper Mendoza remained with the subject until EMS personnel arrived and could provide additional medical attention. The subject told paramedics he had consumed a substance containing fentanyl. The Troopers' quick actions likely saved the man's life. (Trooper Martinez was not present at the ceremony today.)
Texas Ranger Jesse Perez, Texas Rangers Division – San Antonio, was presented a Lifesaving Award for his actions on May 2, 2023, during Operation Lone Star. Ranger Perez was assigned to the Unmanned Aircraft Systems (UAS) Team to support the Texas Rangers Special Operations Group in the Eagle Pass rail yard. Ranger Perez heard radio traffic from a US Border Patrol Agent regarding an undocumented female that had been struck by a northbound train, which amputated her leg. He immediately responded and began providing first aid, applying his DPS-issued tourniquet to her upper left leg. Ranger Perez placed the subject into the recovery position until other resources could arrive; however, due to the rural area and the lack of a level one trauma center, Ranger Perez requested a medical air evacuation. While waiting for EMS, Ranger Perez obstructed the subject's view of the injury and began talking with her to keep her calm and control her breathing. SRT-5 members arrived on the scene and prepared to safely transport the injured subject from the elevated bridge, down a steep embankment and across a field to a waiting EMS unit. After transport, SRT- 5 members secured a landing zone for the incoming aircraft, and Ranger Perez escorted the EMS unit to the landing zone. The subject was flown to a hospital in San Antonio for continued treatment.
Two Unit Citations were also awarded during the ceremony. The following units were recognized:
The Northwest Texas Region's Sergeant Area 5A11 are Troopers strategically stationed throughout the region's 71 counties, focusing criminal interdiction efforts on those smuggling narcotics and other contraband across Texas.
Sergeant Area 5A11 is comprised of one sergeant, one corporal and seven Troopers that support criminal interdiction operations throughout the region including narcotic detector canine handlers. From Jan. 1, 2021, through Dec. 31, 2022, this area had 735 canine deployments for illicit drugs and currency, which resulted in the seizure of more than 7,300 pounds of marijuana, more than 4,000 pounds of THC products, nearly 500 pounds of methamphetamine, nearly 400 pounds of cocaine, 11 pounds of heroin, 30 pounds of fentanyl, nearly 225 pounds of PCP and over 1 million dollars. Sergeant Area 5A11 Troopers credit their success to their criminal interdiction techniques such as roadside interview, vehicle searches and their knowledge of fourth amendment search and seizure case law. They are recognized statewide for their expertise in canine handling and successful drug and illicit currency seizures. Several Troopers have also placed in the state's top ten canine teams.
Those being recognized for their tremendous work and dedication include Sergeant Tony Miller, Corporal Shane Bearden, Trooper Jerome Ingle, Trooper Shannon Tanck, Trooper Chase Neville, Trooper Christopher Lambert, Trooper Darik Heider, Trooper Clayton Blacksher, and Trooper Donald Strange.
A second Unit Citation was given for the extraordinary work done in Criminal Investigations Area 1C4. It began after an incident the morning of Oct. 9, 2020, when a female was found murdered in her home in New Boston, Texas. The victim was 35 weeks pregnant, and after she was viciously beaten, but still alive and conscious, her baby was cut from the womb. The New Boston Police Department requested assistance from the DPS CID and the Texas Rangers.
CID Lieutenant Andrew Venable assembled his personnel and coordinated with Texas Rangers Josh Mason and Chris Baggett to assist. A suspect was identified, and they discovered that a Texas Highway Patrol (THP) Trooper had conducted a traffic stop on the suspect that same morning, shortly after the murder. The suspect had the baby and claimed she had just given birth and was on her way to a hospital. EMS personnel transported the suspect and baby to a nearby Oklahoma hospital. Authorities contacted officers from the Idabel Oklahoma Police Department and Special Agents from the Oklahoma State Bureau of Investigation to detain the suspect there. Texas DPS CID Special Agent Dustin Estes obtained preservation orders for the suspect's and victim's social media accounts, other CID and THP personnel began a canvas of the area in a search for witnesses and evidence, and local officers and Ranger Mason traveled to Idabel, Okla. to interview the suspect. She confessed to being involved in the mother's murder.
DPS CID personnel did extensive work on social media accounts, phone records and online searches. They discovered the suspect's research regarding how to fake a pregnancy, C-section deliveries and how to care for a newborn infant. They also found GPS information that proved the suspect had conducted surveillance at teen pregnancy centers and women's clinics, and evidence that the suspect performed vehicle registration inquiries on potential victims.
Due to the exemplary performance of DPS CID personnel, the Bowie County District Attorney requested that DPS CID remain involved in the remainder of the investigation, grand jury proceedings, court preparation and additional endeavors. The evidence gathered by these personnel all proved to be extremely invaluable contributions to the successful outcome of the investigation and ultimate conviction of the suspect. The outstanding collaboration, teamwork and dedication exhibited by these officers and prosecutors is to be commended. 
Due to this tremendous work, CID Lieutenant Andrew Venable, CID Special Agent Briscoe Davis, CID Special Agent Eric Estes, CID Special Agent Dustin Estes, CID Special Agent Chris Barker, CID Special Agent Ben Allison (retired), Texas Ranger Joshua Mason, Bowie County Assistant District Attorney Kelley Crisp, Bowie County Assistant District Attorney Lauren Richards and District Attorney Investigator Lance Cline are hereby awarded a Unit Citation.
Please join us in congratulating all of the award recipients for their work in making Texas a safer place. Additional photos can be found on the DPS Facebook page.
### (HQ 2023-062)