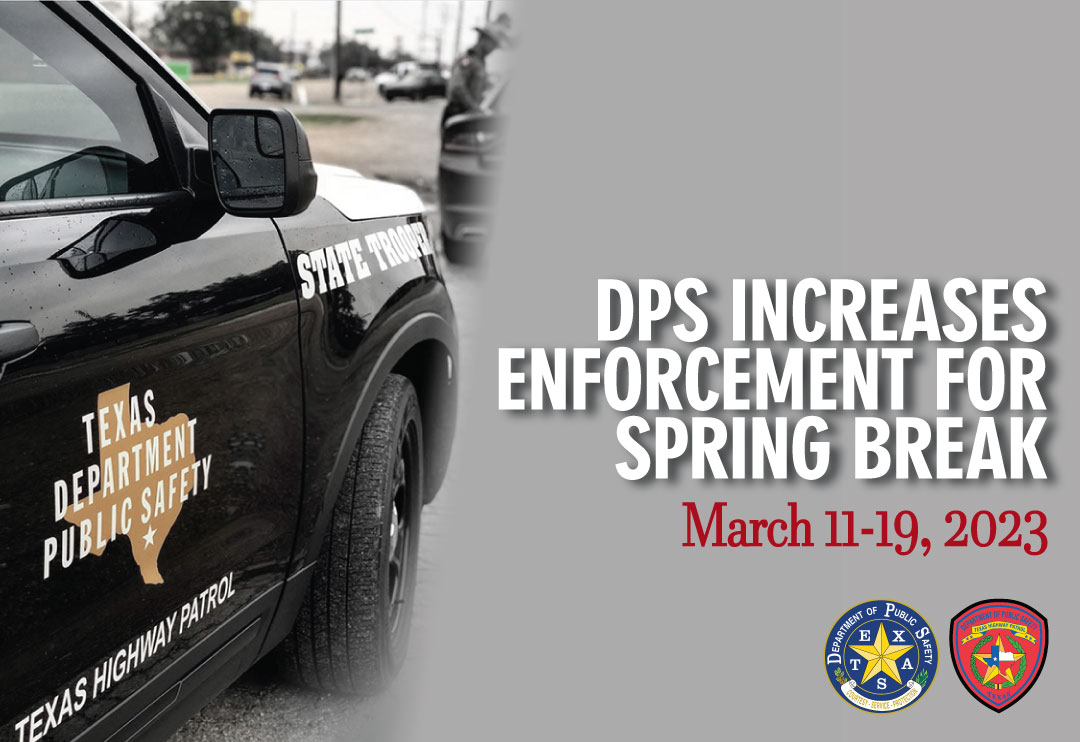 AUSTIN – The Texas Department of Public Safety (DPS) is reminding everyone of some simple tips to help keep all Texans safe this spring break.
"We know families and young adults are anxious to hit the road or get away for spring break, and safety must continue to be a priority," said DPS Director Steven McCraw. "No matter where you're traveling, please follow the traffic laws, be aware of your surroundings, report suspicious activity and do your part to keep everyone safe. We need everyone working together to ensure this spring break is a safe one for Texans."
Now through March 19, the Texas Highway Patrol is increasing its presence on the roads as part of a spring break and St. Patrick's Day enforcement campaign. Troopers will be out looking for people who are violating traffic laws as part of Operation CARE (Crash Awareness and Reduction Effort).
Here are some important safety tips to remember:
Don't drink and drive

. If you plan to have alcohol outside of your home, have a designated driver or take alternate transportation.

Move Over or Slow Down

for police, fire, EMS, Texas Department of Transportation (TxDOT) vehicles and tow trucks stopped on the side of the road with emergency lights activated. Show the same courtesy to fellow drivers who are stopped.

If you can Steer It, Clear It. If you are involved in a non-injury crash and your vehicle can be moved, clear the lanes of traffic. On some highways, if you don't move your vehicle when it's safe to do so, it's against the law.

Slow down

, especially in bad weather, heavy traffic, unfamiliar areas or construction zones.

Buckle up

everyone in the vehicle — it's the law.

Eliminate distractions

while driving, including the use of mobile devices. Texas law prohibits the use of portable wireless devices to read, write or send an electronic message unless the vehicle is stopped.

When using a navigation device or app, have a passenger operate it so you can keep your eyes on the road.

Don't drive fatigued

— allow plenty of time to reach your destination.

Keep the Texas Roadside Assistance

number stored in your phone. Dial 1-800-525-5555 for any type of roadside assistance. The number can also be found on the back of a Texas Driver License.
Monitor weather and road conditions wherever you're traveling. For road conditions and closures, visit

Drive Texas

.
Additionally, DPS reminds everyone to be watchful of their surroundings and to report any suspicious activity through iWatchTexas.
The iWatchTexas program is a critical resource for reporting suspicious activity in communities in order to help prevent dangerous attacks as we bring 2022 to a close. Everyone is urged to download the free iOS or Android mobile app if you haven't done so already. Tips can be reported via the website, the mobile app or by calling 844-643-2251. All reports are confidential. For information on how to use iWatchTexas, you can view this how-to video.
Remember, iWatchTexas is not for emergencies. If there is an emergency, call 911 immediately.
DPS asks travelers to be on the lookout for possible human trafficking. An increase in people on the road and at airports means there is an increased opportunity for the community to spot potential human trafficking activities and report it to law enforcement. If you are traveling, be observant of others around you and take note of the following indicators of human trafficking:
The person appears to be under control of another person either physically (someone else controls the person's possessions i.e., ID, money, phone) or psychologically (little to no eye contact, unable to speak for themselves or unable to make simple decisions without approval).

The person has little to no awareness of their surroundings including where they are or where they are headed.

The person has untreated illness or infection, visible injuries, appears malnourished or sleep deprived.

The person's clothing is inappropriate for the weather or environment. The person is dressed in a manner that does not appear age appropriate or makes them appear older.

The person is being transported to and from work by their employer.

The person lives where they work or works excessively long or unusual hours.

The person's workplace has security measures that are unusual or excessive for the type of business (i.e., boarded or opaque windows, excessive security cameras).
The presence of an indicator does not confirm an occurrence of human trafficking; however, the combination and context of indicators may indicate human trafficking pending law enforcement investigation and you are encouraged to report it.
If you see signs of human trafficking, call 911 immediately to report it and be ready to give as many details as possible. You can also make a report on iWatchTexas or call the National Human Trafficking Hotline at 1-888-373-7888 or text "BeFree" to 233733.
Remember, do not endanger yourself or others by intervening or confronting someone you suspect of engaging in human trafficking if it is not safe to do so.
### (HQ 2023-014)