AUSTIN – The Texas Department of Public Safety (DPS) today honored the Texas Troopers, Special Agents and Texas Rangers who have lost their lives in the line of duty. The DPS Peace Officer Memorial Service was held in Austin in conjunction with National Police Week. Gov. Abbott, the keynote speaker, and more than 300 guests, including various law enforcement officials and family members of fallen officers, attended the event.
"The law enforcement officers who protect this great state, and the families who stand by their side, deserve our deepest respect," said Governor Abbott. "Today we mourn every peace officer we have lost, and we remember their selfless dedication and commitment to upholding the Rule of Law in Texas. Cecilia and I offer our heartfelt sympathies and prayers to the families of these selfless servants."
Since 1823, 219 officers serving in the Texas Rangers and DPS have died in the line of duty. According to the Officer Down Memorial Page, 153 officers across the country were killed in the line of duty since last year's DPS Peace Officer Memorial Ceremony on May 17; 18 of those brave officers served in Texas law enforcement. During the same time, our nation lost 28 law enforcement K9s in the line of duty – four of those were in Texas.
"Today we pay our respects and remember the men and women who have paid the ultimate price so that we could feel safe and protected in our communities – our safety is their legacy," said Texas Public Safety Commission Chairman Steven Mach. "We are forever grateful that the men and women we recognize today stood on the frontlines between us and danger."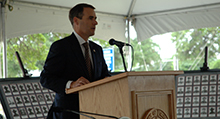 Family members of DPS Trooper Bill Davidson, who was stationed in Edna and was killed in the line of duty in 1992, placed a memorial wreath during the ceremony. Those in attendance included Linda Davidson, his widow; Kimberly Karl, daughter; and Kooper Karl, grandson. In 2012, a DPS patrol vessel was commissioned as the Bill Davidson in the Trooper's honor.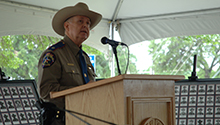 "Every day DPS officers willingly take on the tremendous responsibility of protecting this great state from the full gamut of public safety threats, and they face high-risk situations on a regular basis," said DPS Director Steven McCraw. "The department is eternally proud of and humbled by the sacrifices made by these outstanding individuals along with their families – especially those who have made the ultimate sacrifice – as they proudly serve and protect the great state of Texas."
The DPS memorial service is one of many ceremonies scheduled across the nation to honor fallen law enforcement officers during National Police Week.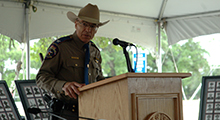 For a list and photos of fallen DPS members throughout history, visit the DPS website at DPS Memorial/. For more information about officer deaths across the state and nation, see The Officer Down Memorial Page. To view the proclamation by Gov. Abbott designating May 15 and May 14-20, 2017, as Peace Officers Memorial Day and Week, respectively, visit Governors Proclamation. To view Gov. Abbott's remarks at today's ceremony, please see Speech by Gov Abbott.
### (HQ 2017-046)