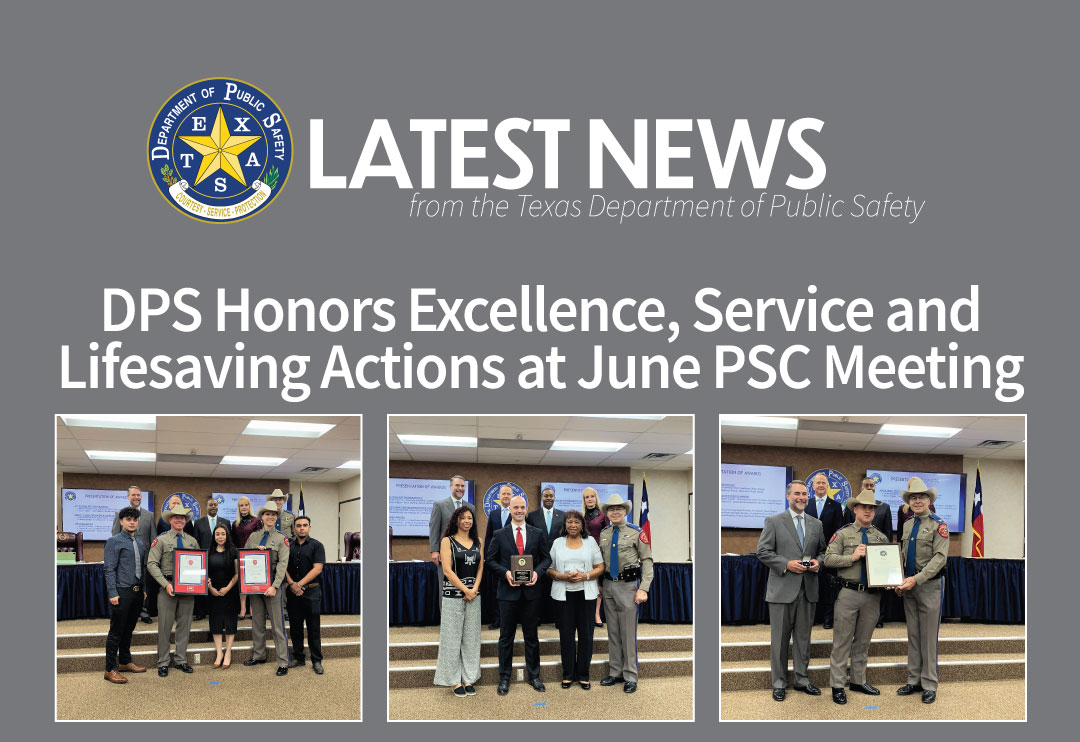 AUSTIN – The Texas Public Safety Commission (PSC), along with Texas Department of Public Safety (DPS) Director Steven McCraw, presented two Javier Arana Top Trooper Awards, two Adolph Thomas Distinguished Service Awards and three Lifesaving Awards at the PSC meeting on Thursday, June 8, at DPS Headquarters in Austin.
"These awards showcase the tremendous men and women who dedicate their lives to serve the people of Texas," said DPS Director Steven McCraw. "Today we honor them for their actions and recognize them for their hard work and commitment to a job well done."
The Javier Arana Top Trooper Award is named after Trooper Javier Arana Jr., who participated in the inaugural Top Trooper competition in February 2012 and performed exceptionally well. The following month, Arana was killed in the line of duty and the competition was named in his honor.
The 11th annual Javier Arana, Jr. Top Trooper competition was held in April at the Tactical Training Center with 91 Troopers competing. During the three-day competition, Troopers were tested on their driving and firearms skills, physical conditioning, endurance and job knowledge through nine events. This year's top female competitor is Trooper Jaclyn Gooding, Highway Patrol — Del Rio. The top male competitor is Trooper Trevor Topper, Highway Patrol — Archer City.
We congratulate Troopers Gooding and Topper for showing tremendous precision and skill throughout the three days of competition.
The Adolph Thomas Distinguished Service Award is named after the first black DPS Trooper, who graduated from the DPS Training Academy in 1970. Thomas worked in Highway Patrol, Narcotics, served as Commander of the Training Academy and retired as Chief of Staff Services in 1995 after a distinguished 27-year career with the department. Chief Thomas, who passed away Sept. 24, 2017, excelled in the areas of mentoring fellow employees, training others and civic engagement. The Adolph Thomas Distinguished Service Award was created to honor DPS employees who display excellence and distinguish themselves in those same three areas. The 2023 Adolph Thomas Distinguished Service Award was given to one non-commissioned and one commissioned person within the department.
Non-Commissioned Recipient – Training Specialist Shawn Cossin, DPS Tactical Training Center – Williamson County.
Training Specialist Shawn Cossin began his career with the department in 2021, and in that time has gone above and beyond in his service to the people of DPS. As a mentor, relationship coach and instructor, not only within DPS but with partner agencies as well, Cossin consistently strives to be of service. He has developed courses and leadership programs that have been implemented throughout the department. In 2022 alone, Cossin led his unit in the instruction of over 3,000 personnel, while personally instructing over two-thirds of these students. Additionally, his desire to serve is reflected in his efforts as a youth leader, ordained minister, police chaplain and board member for numerous non-profit organizations. 
Prior to joining DPS, he served as a commissioned officer in the United States Army where he trained and mentored hundreds of soldiers and fellow officers as a platoon leader, Assistant Operations Officer in a training environment and then as an Operations Officer for both a military police battalion and a law enforcement command. Cossin also had a distinguished career as a Pennsylvania State Trooper where he served as an instructor in the training academy for both state and municipal officers.
Commissioned Recipient – Special Agent Mario Reyes III, Criminal Investigations Division – Austin Capitol.
Special Agent Mario Reyes began his career with DPS in 1993, and over the years has continued to look for ways to assist others, whether it's serving the citizens of our state, working with our law enforcement partners, or being a leader, mentor and role model for his coworkers. He was promoted to Sergeant in the Highway Patrol Division in 1998, and then to Special Agent in the Criminal Investigations Division in 2010.
Throughout his career, Special Agent Reyes has displayed his servant leadership mentality through mentoring subordinates and coworkers, performing as a liaison with other agencies, working with legislators and their staff and being a dependable and trustworthy representative of the agency.
He holds a Bachelor of Arts in Criminal Justice from St. Edward's University, serves on the DPS Honor Guard and is a firearms and physical fitness instructor. 
Special Agent Reyes is also involved with his community. He serves as a soccer coach, a cross-county coach and a mentor. He continually represents DPS with dignity, respect and a general desire to serve others.
The following individuals were also recognized:
Special Agent Zachary Johnson, Criminal Investigations Division – Abilene, and Special Agent Thomas Vinson, Criminal Investigations Division – Abilene, were both awarded Lifesaving Awards for their actions on January 4, 2023. Special Agents Johnson and Vinson were traveling in an unmarked vehicle in Taylor County when they saw a pickup, ahead of their own vehicle, drifting into oncoming traffic forcing other vehicles onto the shoulder or even the ditch in order to avoid being struck. Special Agents Johnson and Vinson were able to determine the driver was an elderly male who was wearing an oxygen mask and did not appear to be alert. Vinson contacted DPS Communications and requested a Texas Highway Patrol (THP) unit to assist. When the Special Agents were advised no THP units were in the area, they made the decision to bring the pickup to a stop in order to protect the lives of other drivers. Special Agent Johnson activated his emergency lights, safely passed the pickup, and positioned his vehicle directly in front of the pickup to get the driver's attention. The driver did not yield or react to the flashing emergency lights, so as they were approaching an intersection, Johnson slowed his vehicle and allowed the pickup to strike the DPS vehicle and then carefully slowed both vehicles until he could get both to a complete stop. Special Agent Vinson began directing traffic while Special Agent Johnson went to the pickup and saw a dog in the backseat wearing a harness identifying it as a diabetic blood sugar detection service dog. The driver appeared disoriented and was unresponsive to Johnson's commands to roll down the window or unlock the door. As the Special Agents were requesting EMS personnel be dispatched to the scene, the driver began trying to move his vehicle. With no other options available, Special Agent Vinson breached the front passenger window, entered the pickup and put the truck in park. Johnson gently removed the driver from the pickup and placed him in a recovery position. EMS personnel arrived on the scene, began treating the driver and transported him and his service dog to a local medical center.
In recognition of their decisive and professional response to a life-threatening situation resulting in the saving of a life, Special Agents Zachary Johnson and Thomas Vinson are awarded Lifesaving Awards.
Trooper Jeffery Laurendine, Texas Highway Patrol – New Caney, is awarded a Lifesaving Award for his heroic actions on January 26, 2023. On that day Trooper Laurendine overheard officers requesting assistance regarding a pursuit in Montgomery County. Trooper Laurendine assisted in the pursuit, and as the suspect vehicle reached a dead end, the suspects fled on foot toward the San Jacinto River. The river's water level and flow were significantly increased due to recent heavy rains. Trooper Laurendine was able to locate the first suspect, handcuffed him and released him to another officer, and then went to assist in the search for the other suspect. While searching, officers heard a subject calling for help. They were able to locate this subject clinging to a tree with his head barely above water. Trooper Laurendine quickly removed his duty belt and entered the water. As he reached the subject, the tree limb the subject had been holding onto broke. Trooper Laurendine held onto the tree with his legs while pulling the subject free of the area where he was trapped. Laurendine held the subject's head above water as he pulled him toward the bank. Due to the frigid temperatures, the subject had lost all strength and could not be of assistance in his rescue. Once in shallow water, another officer assisted with removing the subject from the river.
In recognition of his decisive and professional response to a life-threatening situation resulting in the saving of a life, Trooper Jeffery Laurendine is awarded the Lifesaving Award.
Please join us in congratulating all of the award recipients.
### (HQ 2023-0028)