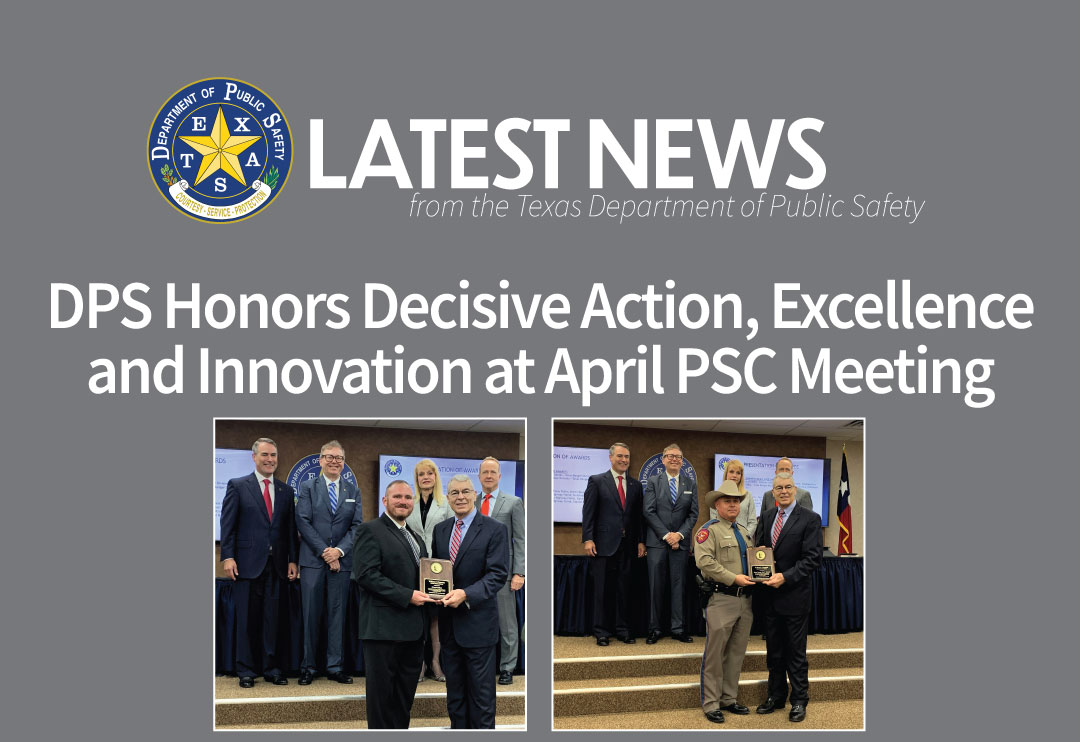 AUSTIN – The Texas Public Safety Commission (PSC), along with Texas Department of Public Safety (DPS) Director Steven McCraw, presented two William P. Clements Excellence Awards, four Lifesaving Awards and two Unit Citations at the PSC meeting on Friday, April 21, at DPS Headquarters in Austin.
"Incredible, lifesaving work is happening across so many divisions here at the Texas Department of Public Safety each and every day," said DPS Director Steven McCraw. "It's so important that we take the time to honor these men and women, commissioned and non-commissioned, for their hard work, dedication and commitment to service. These are the people that make Texas a great place to call home."
The William P. Clements Excellence Award is named in honor of the former governor and his commitment to excellence in government. The award honors a commissioned and non-commissioned employee for their exceptional performance of duties throughout the course of their DPS careers. Program Specialist Orlando Salinas and Trooper Max Honesto each received a 2022 William P. Clements Excellence Award.
Orlando Salinas, Texas Rangers Division – Headquarters, began his career with the department in 2015 in the Training Operations Division (TOD). During his time in TOD, Salinas volunteered to review, update and provide CPR/AED/First Aid training to four recruit schools. He updated the department's curriculum to mirror the American Red Cross guidelines and trained over 500 recruits in first aid. Salinas transitioned from training specialist to statistician for the Fitness and Wellness Unit where he directed the evidence-based research to substantiate the elevation of the Physical Readiness Test (PRT) passing standard from the 50th to 70th percentile; he also served as the liaison for external law enforcement agencies interested in adopting the PRT platform. Salinas assisted with training over 120 external agencies nationwide. In 2018, he began working in the Texas Ranger Division in a lead position for the Border Security Operations Center Program. Salinas' exceptional critical thinking skills helped with the thorough examination of data and metrics related to the Drawbridge program to identify process and data reporting improvements. He liaised with Border Patrol personnel to deploy a pilot project for collecting data related to gang affiliation among illegal immigrants who were apprehended due to actionable intelligence from the Drawbridge program. In 2019, Salinas applied for and received two grants from the U.S. Department of Justice and Bureau of Justice Assistance. The Sexual Assault Kit Initiative (SAKI) grant enables Texas Ranger personnel to collect and enter lawfully owned DNA into the Combined DNA Index System (CODIS) and investigate and prosecute cold case homicides and sexual assault cases.
Salinas is active in community and civic activities, is a member of the Round Rock ISD Capital Projects Community Oversight Committee, serves as choir director for the Saint Elizabeth Catholic Church youth choir and engages with middle and high school students in various church programs.
Trooper Max Honesto, Texas Highway Patrol – Amarillo, has been with the department for two decades and throughout his career, has been the personification of bravery, selflessness and dedication, and he has maintained a relentless pursuit to keep the citizens of our state safe. After being shot during a traffic stop in 2011 and earning DPS' Purple Heart, he dedicated himself to becoming the most skillful and proficient criminal interdiction Trooper possible. In doing so, Trooper Honesto earned a position on an elite interdiction team tasked with patrolling Interstate 40, a major east-west corridor utilized by traffickers to transport a wide variety of contraband throughout the nation. In 2022 alone, Honesto seized 122 pounds of methamphetamine, 29 pounds of cocaine, 2 pounds of heroin, 424 pounds of marijuana, and most notably, 19 pounds of fentanyl, which equates to about 4.2 million lethal doses. He provides training to Troopers, deputies and local officers, as well as DPS partners in federal law enforcement agencies, regarding subjects such as search and seizure, roadside interviews and advanced contraband concealment. Trooper Honesto will officially promote to the position of Texas Ranger on May 1 and will be stationed in Corpus Christi.  
Trooper Sean Smith, Texas Highway Patrol – Jacksonville, was awarded a Lifesaving Award for his decisive and professional response to a life-threatening situation. On April 20, 2022, Trooper Smith responded to the report of a gunshot victim in Cherokee County. As the first responder on the scene, Smith assessed the situation and located the victim who had suffered a gunshot wound to his right leg. Smith quickly applied a tourniquet and moved the victim to a more secure space. Because of the remote location, EMS personnel did not arrive for nearly thirty minutes. Without Trooper Smith's response and intervention, the victim's chances of survival would have been significantly reduced.   
Corporal David Moore, Texas Highway Patrol – Centerville, was awarded a Lifesaving Award.  On June 6, 2022, Corporal Moore was investigating a two-vehicle crash in Leon County when a tractor trailer traveled through the crash scene at a high rate of speed and collided with a vehicle involved in the initial crash. The collision killed the driver of that vehicle. Two Centerville Volunteer Firefighters were also hit, seriously injuring one of them. Moore ran to assist and saw that firefighter Colton Adams had a severe leg injury. Moore immediately retrieved his medical kit and applied a tourniquet to stop the loss of blood. EMS personnel arrived on scene and took over medical care. Adams underwent several surgeries in the days that followed but ultimately survived.
Trooper Josiah Burzynski, Texas Highway Patrol – Lampasas, was awarded a Lifesaving Award. On Oct. 16, 2022, while on routine patrol, Trooper Josiah Burzynski was notified of a three-vehicle crash in Lampasas County. As the first responder on the scene, Burzynski assessed the situation and everyone involved. He was then directed to a pickup truck where a subject was trapped and bleeding profusely from his lower right leg. Burzynski applied his tourniquet, which successfully stopped the loss of blood. EMS personnel arrived, and the subject was flown to a trauma hospital. Medical staff determined the victim was suffering from multiple injuries, as well as internal bleeding, and would have gone into shock and cardiac arrest had it not been for Burzynski's medical intervention.
Trooper Colten Prater, Texas Highway Patrol – Capitol, was awarded a Lifesaving Award. On Dec. 1, 2022, Trooper Colten Prater was on routine patrol at the Capitol complex and monitoring Austin Police Department Communications when he overheard officers being dispatched to a nearby apartment complex in reference to a juvenile who had been shot. Prater traveled to the scene and was the first to arrive. He discovered the victim had a gunshot wound to the left forearm and abdomen, so Prater immediately began to provide medical aid by applying a tourniquet to the victim's arm while maintaining pressure on his abdomen. Throughout the incident, Trooper Prater maintained his composure and spoke calmly with bystanders as he continued to comfort the victim. As EMS personnel arrived on the scene, Prater continued providing medical assistance. The victim was then transported to a local hospital for emergency surgery.
The Crime Lab Division was also honored with two Unit Citations:
Crime Lab Division – Garland DNA Section, dedicated their time and attention to achieving significant goals in 2022. The team's diligence and focus resulted in an average of 43 days to complete a sexual assault kit, which is less than half of the mandated 90-day time limit. This allowed the section to begin working sexual assault kits that had never been submitted for DNA analysis previously, thus supporting the state's initiative to test all kits, with priority being given to the oldest pending cases. The result of this work has been an 80% reduction in the ages of the oldest pending property crimes and crimes against persons cases, as well as a more than 90% reduction in the longest pending homicide cases.
The totality of these efforts in case work resulted in a 62% reduction in the total backlog, an 83% reduction in the average age of pending cases, a 7% increase in the number of cases completed and a 96% increase in the number of DNA profiles uploaded to the Combined DNA Index System (CODIS) from the previous year. The DNA section was also successful in the on-boarding and training of new employees, as well as the validation of new instruments to be used in case work. The successes achieved by the section in 2022 were a result of dedication of the staff, continued communication, specific goals, celebrating milestones, utilization of overtime, employee wellness and perseverance. We hereby recognize the Garland DNA Section with a Unit Citation for this outstanding work.
Crime Lab Division – Rapid DNA Pilot Project was initiated in January 2020 to satisfy federally mandated requirements of rapid DNA testing, profile uploads and profile matching by local law enforcement booking facilities via the CODIS DNA Database. The partnership involving the FBI, state law enforcement agencies in Arizona, Florida, Louisiana and DPS, as well as the Williamson County Sheriff's Department, would ultimately result in the ability for law enforcement agencies to search an arrestee's DNA profile against unsolved crimes of special concern, including sexual assaults, homicides, kidnapping and terrorist activities, in less than two hours of an arrestee's DNA profile being submitted.
To further this endeavor, DPS created the Rapid DNA Pilot Project Team, which included personnel from the CODIS Program, Crime Lab Division, Infrastructure Operations Division, Crime Records Division and Information Technology Division. As a result of the dedication and commitment of the DPS personnel involved in this undertaking, in August 2020, Texas was the first state to successfully test, upload and search a DNA profile from a booking station in Williamson County via the DPS lab and the National DNA Database. Additionally, Texas now possesses the ability to complete the infrastructure needed to make Rapid DNA part of the routine jail booking process within our state. By eliminating the weeks, and sometimes months, it would take to compare a DNA sample to those in the unsolved crimes database, this significant achievement will be a monumental advance in the tools available to law enforcement to protect citizens and bring criminals to justice. For their outstanding achievements, those involved in the Rapid DNA Pilot Project are hereby awarded a Unit Citation.
Please join us in congratulating all of the award recipients. View more photos from today's awards ceremony on the DPS Facebook page.
### (HQ 2023-021)