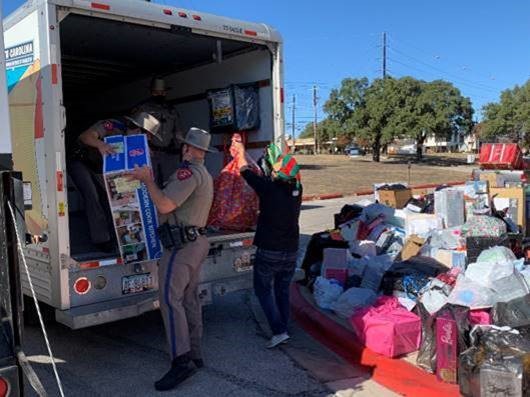 AUSTIN – Hundreds of toys are now heading to children in Austin and surrounding areas in hopes of making their holidays a bit brighter. This week, employees from the Texas Department of Public Safety (DPS) dropped off toys for 438 children as part of this year's Gift Drive for Children in Foster Care. The annual drive is put together by the Governor's Commission for Women and the State Agency Council.
For the second year, DPS employees in the Austin area signed up to sponsor a child in need by purchasing at least three items off the child's Christmas list. From Barbies to bicycles, and sports gear to sketch pads, each child will receive between $75-$100 worth of holiday goodies.
Tuesday at DPS Headquarters, Texas Highway Patrol Troopers helped load the gifts into large moving trucks for transport. The presents will be distributed by Partnerships for Children, a non-profit organization. The group's Holiday Wishes program helps provide gifts for children ages newborn to 18 who are in the care of Child Protective Services.
DPS employees in other areas of the state have also given toys through the Texas Department of Family and Protective Services and local county social services for approximately 275 additional children.
Media Note: Additional photos can be found on the DPS Facebook Page.
### (HQ 2020-066)