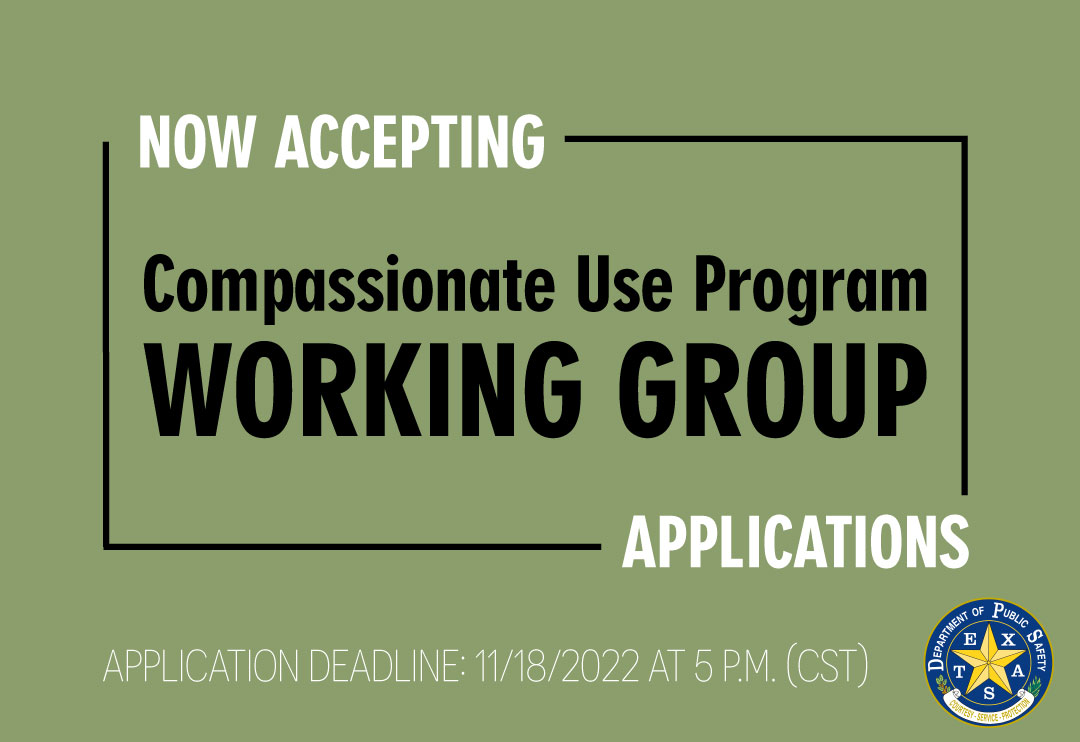 AUSTIN – The Texas Department of Public Safety (DPS) Regulatory Services Division (RSD), is now accepting applications to join the newly created Compassionate Use Program Working Group.
The purpose of the Working Group will be to provide RSD with feedback on the current program, as well as suggestions for improvements in the future. Topics including improvements to the Compassionate Use Registry, policy or rule changes relating to how low-THC cannabis is produced/dispensed, how deliveries might be made more efficient, or how prescriptions are entered, accessed or filled, may be discussed.
The Working Group will initially consist of 10 members, all selected by RSD from the pool of applicants. The Working Group will initially consist of the following:
Three patient representatives, whether currently participating patients, parents, caregivers or patient advocates.
Three qualified and currently registered physicians who are residents of Texas. At least one physician must have direct experience related to the health care needs of veterans, and at least one physician must have pediatric experience.
Three dispensing organization representatives, one from each of the currently licensed dispensing organizations.
One public member (non-stakeholder).
Applications for membership may be submitted through the RSD Contact Us portal, using this application form. The application window will close at 5 p.m. CST on November 18, 2022.
Prospective applicants should be aware they will be subject to a criminal history background check.  Also, as members, they will be publicly identified on the department's website. There will be no compensation for service on the Working Group, and the department has no authority to reimburse members for travel or other expenses relating to service on the Working Group. 
RSD may consider input provided by the Working Group by consensus, by vote or directly from individual members, at its discretion. Recommendations made by the Working Group will not be binding in any way on RSD or the department.
The members may be replaced, and the number of members on the Working Group may be changed, at RSD's discretion.
### (HQ 2022-076)