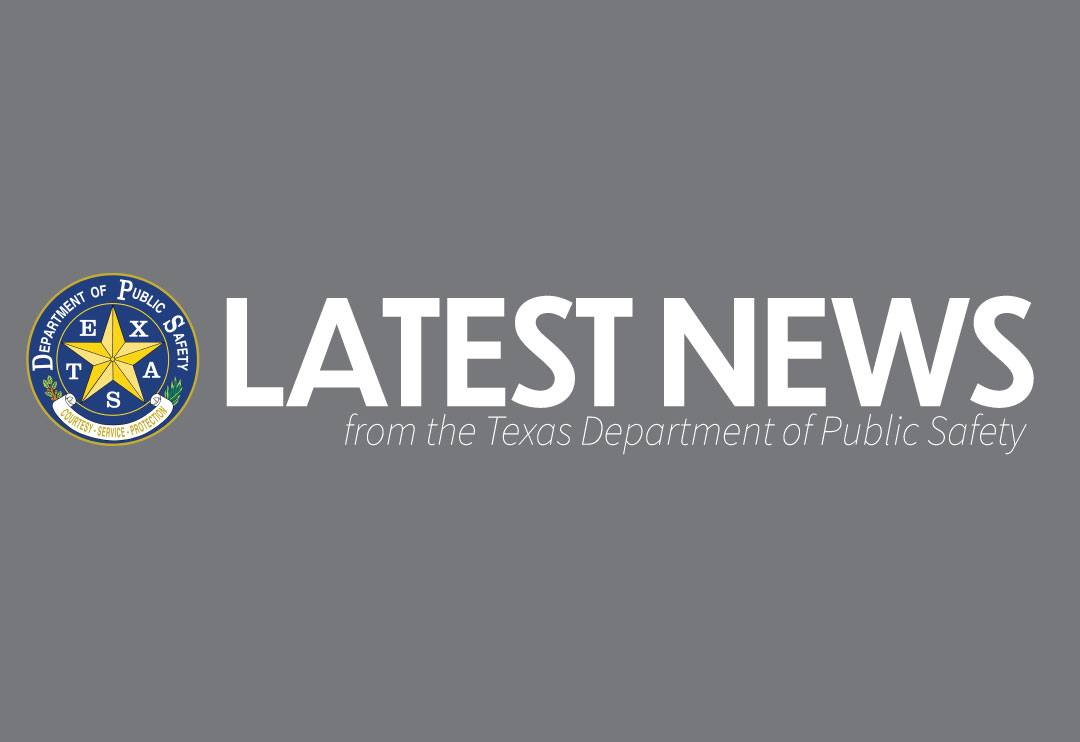 AUSTIN – The Texas Public Safety Commission (PSC), along with Texas Department of Public Safety (DPS) Director Steven McCraw, presented one Director's Citation, two Lifesaving Awards and two Unit Citations at the PSC meeting on Thursday, Aug. 24, at DPS Headquarters in Austin.
"Day after day, the men and women of this department step up to protect and serve the people of Texas," said DPS Director Steven McCraw. "We are proud to be able to recognize them for their extraordinary efforts and dedication to the mission, and we thank them for all that they do."
The following individuals were recognized:
Trooper James McCoy, Texas Highway Patrol Division – Giddings, was awarded the Director's Citation for his professional and decisive response to a life-threatening situation on May 10, 2022. That day, Trooper McCoy was assisting the Lee County Sheriff's Office (LCSO) in the search for a suspect who had an outstanding warrant. Late in the evening, Trooper McCoy met deputies at a residence in Dime Box. As they approached the house, Trooper McCoy observed a man standing inside. LCSO Lieutenant Jordan Mastronardi had been questioning a female at the home who denied the suspect was there, so he decided to make entry with McCoy as backup. After only a few steps, gunshots erupted, and McCoy observed the suspect peeking around the corner of the hallway, with a handgun. Trooper McCoy heard Mastronardi yell and then fire his duty weapon. Trooper McCoy raised his rifle and fired at the suspect through the corner of the wall then backed up to provide cover for Lt. Mastronardi to exit the home. As soon as additional officers were able to provide cover, Trooper McCoy began treating Mastronardi, who had been hit twice, all while comforting and calming him and handling communications with incoming EMS personnel. Despite the status of the suspect being unknown, Trooper McCoy continued to administer first aid until the victim was able to be safely removed from the scene and transported for additional medical treatment.
Special Agent Charles Combs, Criminal Investigations Division – Houston, was awarded a Lifesaving Award for his heroic actions on May 4, 2022. Special Agent Combs was participating in a joint investigation involving DPS personnel, the Houston Police Department (HPD), the Federal Bureau of Investigation and the Drug Enforcement Administration. While conducting surveillance on an individual believed to be distributing illegal drugs and weapons from a hotel in Houston, investigators observed the subject loading multiple backpacks and luggage into a vehicle and leaving at a high rate of speed. HPD Officers McMurtry and Sallee conducted a traffic stop and the subject produced a handgun and shot Officer Sallee multiple times. HPD officers returned fire and struck the subject. Special Agent Combs left his surveillance position and ran to provide tactical emergency care and first aid to Officer Sallee. Combs applied a tourniquet to his left leg to stop the bleeding from a bullet wound, and then placed him into a vehicle to be transported to a trauma center. After caring for Officer Sallee, Special Agent Combs turned his attention to the suspect who had been detained by other officers and agents at the scene. The suspect had sustained multiple gunshot wounds and was losing a considerable amount of blood. Special Agent Combs placed tourniquets on both legs, while an additional tourniquet was placed on the suspect's arm and pressure bandages were applied to his neck. The suspect was then transported to a local hospital for continued treatment.
Trooper Daniel Walker, Texas Highway Patrol Division – Weatherford, was awarded a Lifesaving Award for his heroic actions on Nov. 28, 2022. Trooper Walker was on routine patrol when he observed a car, off the road, on fire. Trooper Walker pulled to a stop and immediately notified DPS Communications. As he approached, he saw someone still inside and a female bystander was yelling that her boyfriend was trapped inside the burning vehicle. Using his ASP baton, Trooper Walker broke and raked the passenger side window, allowing him to reach in and grab the driver and pull him through the window. With the help of three civilian bystanders, Trooper Walker was able to successfully extract the victim. Within just one minute of the rescue, the vehicle became engulfed in flames. The subject suffered several major injuries, including third-degree burns to his arms and face. EMS personnel arrived on scene and began providing medical care before the victim was transported. Today he is alive thanks to Trooper Walker's quick lifesaving actions.
Two Unit Citations were also given during the ceremony. The following units were recognized:
The 6C14 Safety Education Service (SES) Area received a Unit Citation for its work and dedication. The 6C14 SES Area is a six-member team under the leadership of Lieutenant Jason Reyes and is responsible for the Safety Education and Media function for the Central Texas Region. This region encompasses 43 counties, nearly 40,000 miles of roadway and a total population of over 5 million people.
SES personnel work with English and Spanish media outlets in Austin, San Antonio and Waco, and serve as liaisons between DPS and various government and law enforcement public information officers. 6C14 personnel played a key role with oil and gas industry companies promoting traffic safety during the height of the Eagle Ford Shale project, and they were vital in several public relations campaigns including Click it or Ticket, Drink-Drive-Go to Jail, Talk Text Crash, Work Zone Awareness and End the Streak.
The 6C14 Area conducted several major press conferences at some of Texas' most significant media events including the West Fertilizer Plant Explosion in 2013, the Waco Outlaw Motorcycle Gang Shooting in 2015, the Wimberly and Hays County Floods in 2015, the Bastrop Lost Pines Fires in 2015 and the Martindale Hot Air Balloon Crash in 2016. On Nov. 5, 2017, a mass shooting occurred at the Sutherland Springs Baptist Church, and for eight days, these personnel provided daily press briefings and updates through social media platforms.
Over the past nine years, personnel have also placed highly at the National Uniformed Safety Education Officers Workshop. First place honors were received in: Traffic Safety, 2014 and 2016; Television Public Service Announcement, 2016; Public Safety, 2017 and 2018; and Radio Public Service Announcement, 2017.
Their hard work and dedication have helped promote the goals and objectives of DPS, which ultimately benefits citizens and visitors of the state. 
Being recognized are Staff Lieutenant Jason Reyes, Staff Sergeant Kenny Mata, Staff Sergeant Ruben San Miguel, Staff Sergeant Deon Cockrell, Staff Sergeant Bryan Washko, and Staff Sergeant Ryan Howard.
Also earning a Unit Citation is the Criminal Investigations Methamphetamine Initiative Group (MIG). The MIG is comprised of CID and DEA personnel who work closely with local law enforcement to disrupt and dismantle organizations trafficking and distributing illegal drugs in the Houston area. The MIG has developed relationships with these agencies that has led to great success and had a significant impact in the lives of the citizens of Texas and our nation.
In 2022, the MIG and supporting agencies completed a long-term fentanyl and methamphetamine investigation named Operation Pumping Iron. Agents and officers were able to dismantle and disrupt an organization distributing thousands of deadly pills and other substances in our communities. Throughout the year, this investigation yielded over 10,500 pounds of methamphetamine and 336 pounds of fentanyl. Additionally, eight counterfeit pill press labs were dismantled along with 15 methamphetamine conversion labs. These efforts ultimately led to the arrest of 158 suspects.
Later in 2022, the MIG utilized information learned from Operation Pumping Iron, and with the help and expertise of a HIDTA intel analyst assigned to the MIG, agents were able to quickly transition to another organization associated with suspects from the initial investigation. This spin-off investigation was titled Operation Disco Never Dies, and through April 2023, the MIG and assisting officers have continued to seize numerous narcotics, including fentanyl, and disrupt this organization. Additional seizures and arrests are forthcoming.
Being recognized are Captain Cliff T. Manning (RET), Captain Richard E. Salinas, Special Agent Ryan Askew, Special Agent Mike Gonzalez, Special Agent Ryan Pace, Special Agent Eric Rohlack, Special Agent John Silvia, Special Agent Randall "Duke" Woodard, Special Agent Mark Willey, Katy Police Department Officer Jason Weathers, Brookshire Police Department Captain Oscar Garcia, MIG/HIDTA U.S. DEA Agent Derrick Conn, MIG/HIDTA Investigative Analyst Teresa Gee, Houston Police Department-Narcotics Division High Hazard Clan Lab Team, Houston Fire Department-Hazardous Materials Response Team and the Harris County Sheriff's Office-District 5 Crime Reduction Unit.
Please join us in congratulating all of the award recipients.
Photo of 6C14 Safety Education Service Area receiving Unit Citation: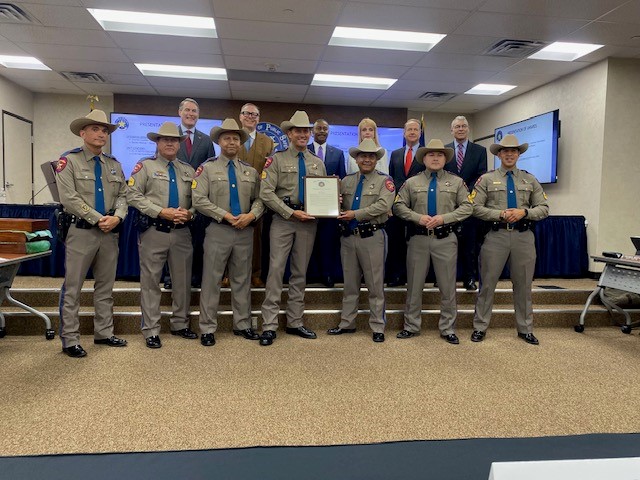 ### (HQ 2023-044)