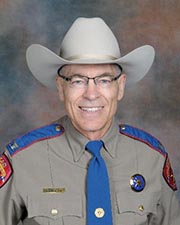 Steven C. McCraw
Director/Colonel
Steven C. McCraw became the Director and Colonel of the Texas Department of Public Safety in August 2009.  He began his law enforcement career with DPS in 1977 as a Trooper in the Texas Highway Patrol and later as a DPS Narcotics Agent until 1983 when he became a Special Agent with the FBI.  He served in Dallas, Pittsburgh, Los Angeles, Tucson, San Antonio and Washington, DC.
His promotions included Supervisory Special Agent, Unit Chief of the Colombian/Mexican Organized Crime Unit, Assistant Special Agent in Charge in Tucson, Inspector-In-Charge of the South East Bomb Task Force, Inspector – Deputy Assistant Director, Special Agent in Charge of the San Antonio office, Assistant Director of the Office of Intelligence for which he was tasked to establish after the attacks on 9/11.  He was also responsible for establishing the Foreign Terrorism Tracking Task Force under Office of the Attorney General.
In 2004, McCraw retired from the FBI to become the Texas Homeland Security Director in the Office of the Governor where he served until his appointment as DPS Director.
A native of El Paso, McCraw has a Bachelor of Science and Master of Arts degrees from West Texas State University.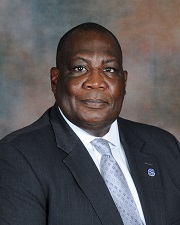 Dwight D. Mathis, Lt. Colonel
Deputy Director Law Enforcement Operations
Dwight Mathis holds the rank of Deputy Director/Lt. Colonel for Law Enforcement Operations.  In this role, Mathis oversees the Criminal Investigations Division, Texas Highway Patrol, Texas Rangers, Aviation Operations Division and six regional directors. Mathis most recently served as Chief of the Texas Highway Patrol Division. Mathis has more than 30 years of service with DPS, beginning his career in 1987 as a Trooper stationed in Bay City. He was promoted to Sergeant and served in Webster/Clear Lake, before being promoted to Lieutenant and then Captain, stationed in Bryan. In 2011, he was promoted to Major and assigned to headquarters in Austin. In 2017, Mathis was named Assistant Chief of THP, followed by a subsequent promotion to Regional Director of Region 7, before serving as Chief of THP beginning March 2020.
Mathis has a Bachelor of Science degree in criminal justice with a minor in political science from Sam Houston State University. He's also graduated from the FBI National Academy, the FBI Law Enforcement Executive Development Association and has completed the 36th Governor's Executive Development Program. Mathis serves as an executive board member for the FBI National Academy Associates of Texas, served as president of the Texas Police Association from 2019-2021, and is currently attending the FBI National Executive Institute #44.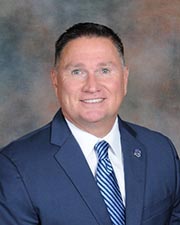 Freeman F. Martin, Lt. Colonel
Deputy Director Homeland Security Operations
Freeman Martin is the Deputy Director/Lt. Colonel of Homeland Security Operations of the Texas Department of Public Safety.  Martin began his career with DPS in 1990 as a Highway Patrolman in Winnie.  He transferred to Lubbock in 1995, eventually promotion to Corporal.  In April 1999, Martin promoted to Sergeant in the Narcotics Service and was stationed in Houston.  In March 2002, he promoted to Texas Ranger Sergeant and remained in Houston.  In January 2008, he promoted to Texas Ranger Captain in Houston, where he later promoted to Texas Ranger Major.  In October 2014, Martin was named Regional Director of DPS Region 6 in San Antonio.
He is a graduate of the Northwestern University School of Police Staff and Command and has received numerous awards and commendations during his tenure with the department.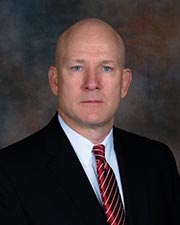 Jeoff Williams, Lt. Colonel
Deputy Director Law Enforcement Services
Jeoff Williams is the Deputy Director/Lt. Colonel of Law Enforcement Services. Williams started his career with the Texas Department of Public Safety in December 1994.  After graduating from the DPS Academy, he was assigned to the Highway Patrol Division and was stationed in Winnie.  In 1996, he transferred to the Highway Patrol in Georgetown where he served on the DPS SWAT Team.  In 1997, he promoted to Staff Sergeant on the Governor's Protection Detail and remained there until promoting to Narcotics Sergeant in Garland in 1999.  In 2007, Williams promoted to Narcotics Lieutenant and was stationed at headquarters.  After transferring back to Garland in 2008, he promoted to Captain in 2010.  In 2016, Williams was appointed to CID Major in Region 1 then Regional Director in September 2018. 
Williams is a graduate of the DEA Drug Unit Commanders Academy and the FBI National Academy, Session #263.  Williams served as an infantry platoon Sergeant in the Marine Corps during Operation Desert Storm and has a Bachelor of Science degree in Criminal Justice from Southwest Texas State University.