Law Enforcement Education
The Texas Department of Public Safety is the premier law enforcement agency in the state, as well as one of the finest in the nation. In order to meet the many challenges facing law enforcement today, the Department operates a world-class training program. Law Enforcement Education (LEE) educates and trains recruits, troopers, agents, and other law enforcement officers across the great state of Texas.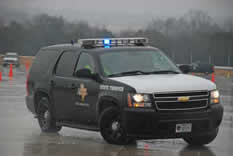 The Law Enforcement Education training program administers a rigorous 23-week recruit school that is both physically and mentally demanding. Recruits must successfully complete the program to become a Texas State Trooper. Students study tactical vehicle operation, firearms, use of force, effective report writing, communications skills, and first aid, as well as other topics. Physical training and Arrest & Control Tactics training are also core elements of our program.
All Texas peace officers must complete at least 40 hours of continuing education every two years. The Law Enforcement Education training program is designed to recertify the Department's law enforcement officers and keep them up-to-date with new information, tactics, and techniques. LEE's commissioned staff members instruct, arrange schedules, procure additional instructors and manage specific course needs to a variety of courses. Evaluations are developed and reviewed for ongoing improvement of our schools.
Additionally, courses are conducted for employees of state, city and county agencies who perform law enforcement duties as well. Courses range from "Highway Serial Killings" to a "Basic Instructor Course" to "Criminal Interview and Interrogation."
Tactical Training Center
Education, Training and Research opened a modern Firearm's Range in Florence, Texas, on June 1, 2003. This training facility, located on approximately 44 acres, includes a 60 point range, rifle range, shotgun range, tactical shoot house and tactical range. The tactical staff also trains students in the complexities of simulated "real life" scenarios.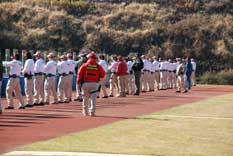 Adjacent to the Firearms Range is the Emergency Vehicle Operations Center (EVOC). The 150-acre facility consists of two skills pads, a skid pad, an urban area, and a high speed track. Instructors train recruits and other law enforcement students in everything from "cone" courses to high speed pursuits.
The Law Enforcement Education staff is comprised of 20 commissioned officers including 13 sergeants, four lieutenants, and two captains. A Program Specialist was added to the Academy Staff in early 2010. Clerical support is provided by a Clerical Supervisor, nine Administrative Assistants, a Receptionist and a Copy / Supply Specialist.
Additional Education, Training & Research Programs And Services
Employee Development (ED) is in charge of conducting classes for DPS non-commissioned employees as well as its commissioned members. ED offers courses such as "Dealing with Difficult People," "Public Speaking," along with classes in the latest computer software technology. It is additionally responsible for record keeping of our field training law enforcement courses. ED personnel consist of a Training Program Coordinator, three Training Specialists, four Computer Technology Training Specialists, an Occupational Safety Program Coordinator, two Administrative Clerks and an Audio/Visual Technician.
The Motorcycle Safety Unit is assigned to the Texas Department of Public Safety-Education, Training & Research and administers two statewide training programs:  The Motorcycle Operator Training & Safety Program, and the All-Terrain Vehicle Education & Certification Program.
The Academy operates a full service cafeteria which employs a food service manager, an assistant food service manager, and 12 employees.
Overseeing Education, Training and Research is a Assistant Director and the Assistant Director's Office Assistant.
You may view more Law Enforcement Education photos here
Contact Information:
Sonia Garcia, Assistant Director, Education, Training and Research
Orlando Salinas, Deputy Assistant Director, Education, Training and Research
Walt Goodson, Major, Education, Training and Research
Vicky Aguirre, Captain, Recruiting
Greg Davis, Captain, Fitness Wellness
Jason Griffin, Captain, Tactical Training Center
Derek Prestridge, Captain, Recruit School Training
Lynn Floyd, Lieutenant, Leadership & Professional Development
Veronica Garcia, Lieutenant, Leadership & Professional Development
Law Enforcement Education Academy
DPS.Training@dps.texas.gov
Office: (512) 424-7214
Fax: (512) 424-5734

Tactical Training Center in Florence
Firearms Range: (254) 793-4250
Emergency Vehicle Operations Center: (254) 793-2267