Donations for COVID-19 Office of the Texas Governor
Helpful Resources on COVID-19
For your safety, the below file contains information about DPS locations where an employee has tested positive for COVID-19.
IMPORTANT TRAVELER INFORMATION
-----------------
Governor Abbott has issued two Executive Orders mandating a 14-day quarantine for travelers arriving in Texas from the specific areas designated in the orders. Air and road travel are impacted.
The travel form, along with information on who is impacted and the requirements for self-quarantine, is now available.
DPS continues to follow guidelines set by the CDC and DSHS related to the COVID-19 pandemic.
Governor Abbott released the following public service announcement encouraging Texans to practice social distancing by staying home in order to mitigate the spread of COVID-19.
Click here to view the announcement.
DPS Updates on COVID-19 Response:
View the latest travel information related to COVID-19.
April 10, 2020: ICYMI: In Light of Federal Guidelines for Commercial Drivers, DPS Extends Deadline for CDL Holders to Submit Medical Certificates
In light of the COVID-19 pandemic, DPS has suspended the automatic downgrade of commercial driver licenses (CDL) by providing CDL holders with an extension for the medical certificates required for CDLs if a driver is unable to provide a current medical certificate due to COVID-19. This action comes in light of guidelines issued last month by the Federal Motor Carrier Safety Administration (FMCSA) and following the closure of DPS driver license (DL) offices across the state due to COVID-19. Read more in this Press Release.
March 26, 2020: DPS Limits Public Access to Buildings Due to COVID-19, Business Operations Still Remain Open
In response to COVID-19, DPS is limiting public access to department facilities to protect the public and our employees, promote social distancing and do our part to stop the spread of COVID-19. Despite limited physical access to our buildings, DPS remains open for business and continues to provide essential services to Texans as our employees conduct operations remotely; therefore, the public should experience minimal impact from this temporary change. Read more in this Press Release.
March 19, 2020: DPS Coordinates with Public Health Authorities as Two Employees Test Positive for COVID-19
DPS is reporting to the Public Health Authorities that two DPS employees have tested positive for COVID-19. Public safety is our number one concern, and the department will work in conjunction with public health authorities to provide any additional information necessary to notify the public of these positive cases.
While the department continues to follow the guidelines and protocols set by health authorities and state and federal leaders, we know that the number of DPS employees impacted by COVID-19 could continue to rise. The COVID-19 pandemic continues to rapidly evolve around the state, country and across the world. Please know that the safety of the public and our employees is at the forefront of our decisions, and the department will continue to update this page should the need arise if any additional employees test positive for COVID-19.
(March 23, 2020: DPS Issues Update on Last Week's Release Regarding Employee Who Tested Positive for COVID-19 | Read the update in this Press Release.)
March 19, 2020: Driver License (DL) Expiration Dates Extended, DL Offices Closed in Light of COVID-19 Outbreak
At the direction of Governor Greg Abbott and in light of the governor's State of Disaster Declaration related to COVID-19, DPS has been directed to extend the expiration date of Texas identification cards (ID), driver licenses (DL), commercial DLs (CDL) and election identification certificates (EIC). Additionally, the department has been directed to close DL offices effective Thursday, March 19, until directed to reopen by the governor. These actions come as the state works to limit the ongoing spread of COVID-19 by increasing social distancing in communities.
Read more about the DL extension, office closures and online services for eligible Texans.
March 12, 2020: DPS is taking preventative measures against COVID-19 by implementing additional sanitation practices at driver license (DL) offices and issuing guidance to members of the department on best practices, as we know that common sense hygiene and cleaning practices can aid in preventing the spread of many diseases, including COVID-19. The best way to prevent infection is to take precautions to avoid exposure to COVID-19, which are similar to those you take to avoid the flu. That's why the department has posted signage throughout DPS offices related to best practices for hygiene and prevention efforts. Read more about these efforts.
Additional Resources
From Texas Health and Human Services (HHS):
HHS encourages all Texans in need of COVID-19 information and referrals to community resources to call the 2-1-1 Texas hotline 24 hours a day, 7 days a week.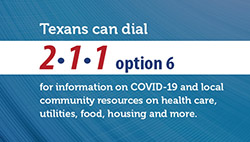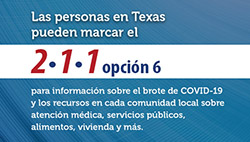 From Texas Department of State Health Services: On March 19, 2020, Dr. John Hellerstedt, commissioner of the Texas Department of State Health Services, declared a public health disaster in Texas, because COVID-19 "has created an immediate threat, poses a high risk of death to a large number of people, and creates a substantial risk of public exposure because of the disease's method of transmission and evidence that there is community spread in Texas." Read more about the declaration.